HGTV Canada renews Timber Kings
The original series from Paperny Entertainment is the highest-rated in the channel's history, according to Shaw Media.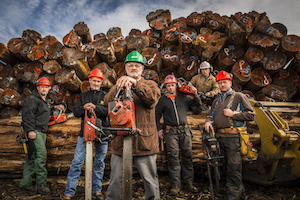 It's been a strong mid-season for original programming on Shaw Media's specialty channels, and the trend continues this week with the announcement that Timber Kings is now ranked as the highest-rated series in HGTV Canada's history.
Timber Kings, which follows a crew of premium log home builders in B.C., averaged 400,000 (2+) viewers per episode during its debut season, according to BBM data for Jan. 5 to March 9.
The series premiered to a timeslot win on Jan. 5 with 370,000 viewers, and a demo win with males 25 to 54, which is perhaps more notable for the traditionally female-skewing channel. Shaw Media also noted in a statement that Timber Kings achieved a top-10 ranking in specialty entertainment for the season overall (all data BBM Canada).
The ratings win for Shaw Media caps a mid-season of successes for its original specialty content. Chopped Canada was the highest-rated series premiere in Food Network Canada history, earning 393,000 overnight viewers (2+) on Jan. 2, 2014.
And earlier this week, the company announced a third season for Canada-Ireland coproduction Vikings, which airs on Shaw's History channel and is earning a whopping average of 900,000 viewers (2+) per episode.
From Playback Daily