Raptors playoff ratings continue to climb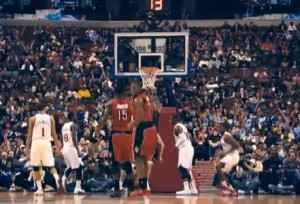 The Toronto Raptors playoff run continues to draw win-hungry Canadian sports fans to TSN. Sunday's game four nail-biter win drew 885,000 viewers (AMA) with audience levels peaking at 1.46 million late in the fourth quarter, according to BBM Canada stats cited in a Bell Media release.
The 87-79 victory over the Brooklyn Nets ranks as the second most-watched Raptors game ever, trailing only the second round game seven loss to Philadelphia in 2001. Sunday's game was the most watched sports broadcast in the Greater Toronto Area last week, attracting more viewers than any playoff hockey game, according to the release.
TSN's coverage of the Raptors' playoff run has so far drawn a total reach of six million unique viewers.
The series continues Wednesday on TSN at 8 p.m. for game five.
Tags: Bell Media, MLSE, Toronto Raptors, TSN