Exchange Lab's exec chairman on making programmatic less selfish
MiC spoke with former BBC head of advertising Chris Dobson in Cannes about ditching the acronyms and connecting with what CMOs want.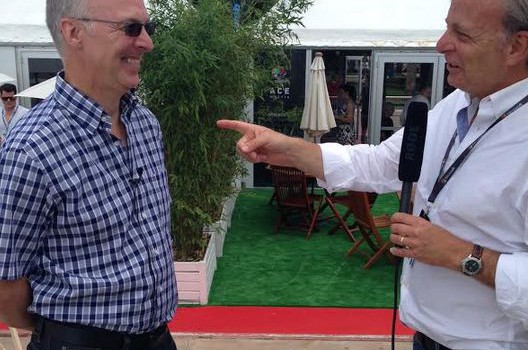 Chris Dobson joined Exchange Lab in December as chairman of the company and last week was promoted to become its executive chairman. He says coming to the programmatic company is the latest in a line of his career moves that have aligned with changing consumer behaviours, from cable TV to satellite with MTV, online with Microsoft and branded content and cross-platform sales with the BBC.
MiC caught up with Dobson in Cannes to ask about his latest role, what issues he has with clients and programmatic, and the company's next moves.
What are some of the biggest misconceptions you find clients have around programmatic since starting at The Exchange Lab?
How confused they are about it. I have taken it upon myself to do a lot of research, both to drive our strategy forward, but also to get under the skin of what CMOs and client leaders really think about the future of digital media and what they really care about.
Programmatic, like all technical  businesses, tends to get self-centered and talk in three-letter acronyms, getting all excited about things that CMOs and clients might not actually care about. We need to think about the problems that clients actually have, not the ones that we might think they have.
I have created a presentation where I talk about clients' feelings, and also those of publishers. Coming out of a premium publisher like BBC.com, I know we need to think about things like brand safety and pricing. Can programmatic drive prices up for premium content as well as drive them down for the non-premium inventory? I think as an industry we have a long way to go to mature into that, those gating factors like brand safety and answering solutions that are relevant to their problems.
It is important to talk in a way that people understand and throw away the three-letter acronyms so you start to get a more engaged customer base that understands how important this issue is. They all believe it is the future but they are worried because they are confused about it.
The biggest thing people are upset about is brand safety, we recently helped HSBC with that. We had people physically checking a list of white labelled safe sites. We can't let algorithms make binary decisions. We are working to create ways to make that man-machine interface include a good robust view of data safety and brand choice. We're keen to start creating as much leadership as we can, to give them a better understanding of what we do rather than read the headlines about the downfalls of the sector, of which there have been a few lately.
Also the ecosystem of programmatic companies is pretty messy and is going to have to have some sort of consolidation over the next couple years to create a scalable model where things can ladder up. The first thing we have done since talking with clients about what they want is to create a platform that is more clear and is more based on the financial industry than the media one.  We hired our CTO from Deutsche Bank for that reason. It was easier to teach the finance guy the media side than it is the other way around.
Where is Exchange Lab going next?
The next iteration of Exchange Lab will be called Data Lab, though that name may change before it launches. That will roll out in the next six months and will industrialize a lot of the market processes within programmatic. The US and Canada are ahead of Europe in programmatic and all of those are ahead of Asia.
We have a responsibility in Canada because we are such a big player in the country. We will always be looking at Canada as one of our most mature markets and management teams.
Photo (left to right): Dobson with Beet.tv in Cannes