Facebook to buy LiveRail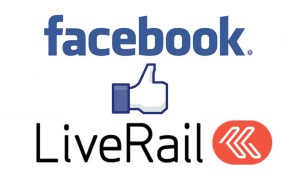 Facebook announced on Wednesday that it has agreed to acquire LiveRail, a company that delivers online video ads to clients such as Major League Baseball (MLB.com), ABC Family, A&E Networks, Gannett and Dailymotion.
In May, Facebook unveiled its Premium Video Ads feature that embeds 15-second clips in users' news feeds in Canada. The acquisition of LiveRail signals that the social media network wants to expand its video business.
Founded in 2007 by Mark Trefgarne (CEO) and Andrei Dunca (CTO), LiveRail provides companies with a centralized programmatic platform as well as analytics to help them decide where to show the ads on their websites and apps.
Techcrunch is reporting that Facebook paid between $400 million and $500 million for the company, though the amount has not been confirmed by either party.
LiveRail is headquartered in San Francisco, and has offices in New York City and Cluj-Napoca, Romania. It is backed by early-stage venture capital technology fund Pool Ventures, based in San Jose, Calif.
From Stream Daily