Wednesday's World Cup semifinal's ratings win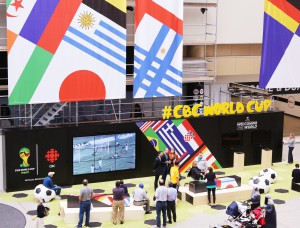 Wednesday's 2014 FIFA World Cup semifinal match between the Netherlands and Argentina was the most watched so far in the tournament, with an average audience of 3.1 million viewers on CBC.
The match trails only the final of the 2010 tournament (which brought in an average audience of 4.9 million) as the top-viewed World Cup game in recorded history for Canada.
Overall, 9.1 million Canadians watched at least part of the game, which saw Argentina beating the Netherlands in a shootout. Of those Canadians, more than 780,000 watched the game online, according to numbers from CBC.
Audience numbers for the game peaked at 5.3 million viewers at 6:43 p.m. when Argentina sealed the game with the shootout.
Live coverage of the FIFA World Cup wraps this weekend, with the third place game on Saturday at 3:30 p.m. EST and the final match on Sunday at 1:30 p.m. EST. Sunday's final will also be broadcast live on CBC Radio One beginning at 2:45 p.m.
Tags: 2014 FIFA World Cup, CBC