Rogers earns group-based licence renewals from CRTC
But the broadcaster must apply for a separate TV licence to air hockey games on the CBC on Saturday nights.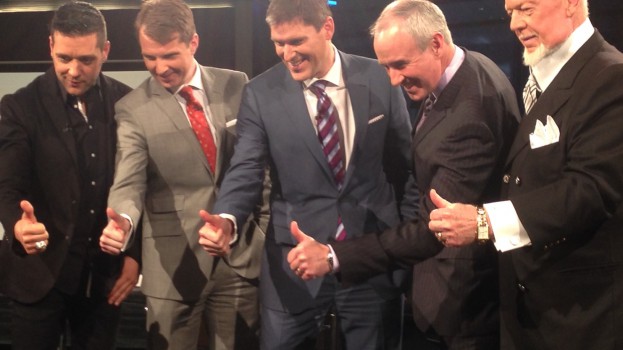 The CRTC on Thursday approved group-based licence renewals for Rogers Media's City network, Sportsnet and other broadcast assets, through 2016.
At the same time, the regulator is betting that Rogers over the next two years will increase expenditures on sports programming across its channels after securing a landmark TV deal with the NHL, and reduce expenditures on other programming genres.
In its ruling Thursday, the CRTC, while granting Rogers "spending flexibility," warned of the possibility that it could impose a limit on hockey-related expenditures after the next licence renewal round in 2016.
"The Commission does not consider it necessary at this time to impose a limit on Rogers' group CPE as it relates to spending on sports programming," the regulator said in its ruling. "However, the commission remains concerned with the possible impact that this programming will have on Rogers' services," the CRTC added.
And the TV watchdog ordered Rogers to apply for a network licence to air NHL games on the CBC on Saturday nights as the private network will control editorial and advertising for that Hockey Night in Canada airtime.
"Once that application is received, it will be assessed by the commission on its own merits in the context of a public proceeding," the CRTC said
Rogers Media executives told the regulator in April 2014 during licence renewal hearings that the NHL deal for blanket coverage of hockey across its services was crucial to stemming continuing ad dollar losses at its City network.
But rival Bell Media, while not opposing group-based licence renewals for Rogers' 17 services, warned that the broadcaster's NHL-related revenues and expenses could lead to programming dollars leaving the Canadian broadcast system.
"Bell noted that Rogers could assign its revenues and expenses among services (specifically to the CBC and Sportsnet) to avoid CPE and/or PNI expenditure obligations that would otherwise be incurred by services in the designated group," the CRTC noted in its ruling.
Responding to Bell's concerns, the regulator said including expenditures on some NHL content and excluding others, "would involve a high level of monitoring on its part, which may prove impractical."
It also discounted "concerns and allegations" that Rogers would divert substantial programming dollars from the Canadian broadcasting system with hockey coverage across its range of services and sub-contracted channels.
Accordingly, the CRTC okayed Rogers' proposal for its CPE to be 30% for its designated group (a percentage it previously opposed), including a CPE requirement of 25% for the City network, excluding City Saskatchewan.
In another sign of compromise, Rogers dropped an earlier request for its City TV stations and Category A specialty channels to be excluded from the terms of trade agreement with the CMPA, in return for receiving two-year group-based licence term renewals.
From Playback Daily