The magazines Canadians are reading in 2014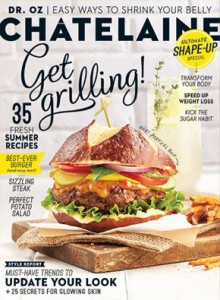 The latest Canadian magazine readership numbers are in, with paid and verified circulation down 4.8%, paid subscriptions down 10% and single-copy sales up 3% for the first half of 2014 against the same period in 2013, according to the Alliance for Audited Media.
Measuring data from 56 titles, the organization also reports that 86% (48 titles) have digital replica editions, with a total of about 265,764 digital copies, making up about 3% of total paid and verified circulation. That number is nearly tripled from the 72,587 digital copies reported in the June 2013 period.  Digital replica editions are included in the total paid and verified, single-copy sales and digital numbers in the snapshot reports from AAM.
Big gains at Rogers Media and in digital replica numbers overall can be attributed in large part to the inclusion of numbers from Next Issue Canada, which are counted in single-copy sales, total paid and verified circulation and digital replica editions. A spokesperson from Rogers Media confirms that Next Issue Canada numbers have boosted single-copy sales numbers by 30% for the first six months of 2014 versus last year. Each time a Next Issue Canada user downloads an issue through their monthly subscription it counts towards that particular title's single-copy sales number, which might account for gains like 360% for Sportsnet Magazine, 101.7% at Flare and 94.5% for Moneysense in the first six months of 2014. Next Issue Canada doesn't currently include any Canadian magazines that aren't published by Rogers Media.
Rogers Media's Chatelaine is top across the board according to the numbers, with the highest paid and verified circulation, single-copy sales and digital replica editions.
On the flip side Reader's Digest's Canadian English edition saw the largest drops of the top 25 magazines for the period, with single-copy sales down 55.2% and paid and verified circulation down 28.6%. That drop follows a refresh of the magazine in the first part of 2014, with the title reworking the look and content in an attempt to better reach its target of adults 35 to 55, as well as advertisers.
AAM reports that wholesaler and distributor Benjamin News closed this March, which might have impacted numbers at some titles.
Publisher's statements that include breakouts of paid and verified print versus digital numbers for each title will be released in the coming days and weeks as they are processed by AAM.
Here are the top 25 titles for the first six months of 2014 versus the same period in 2013:
By total paid and verified circulation: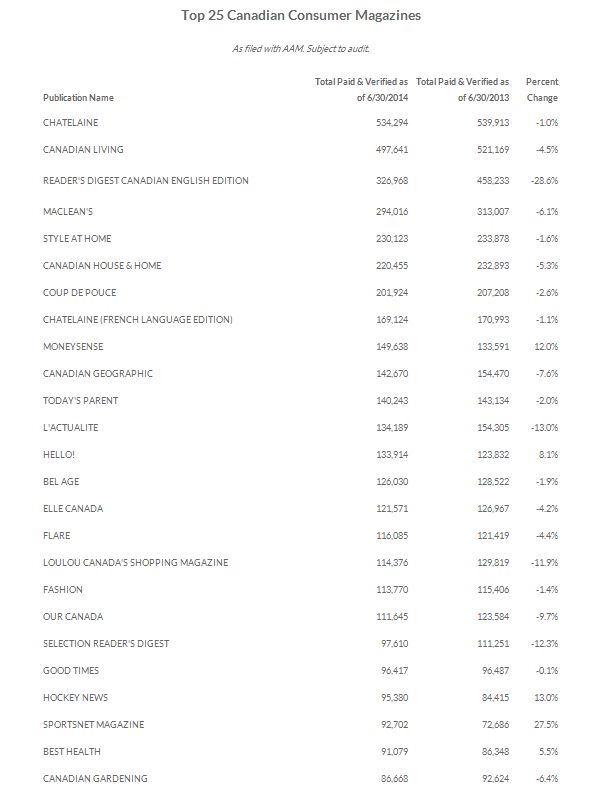 By single-copy sales: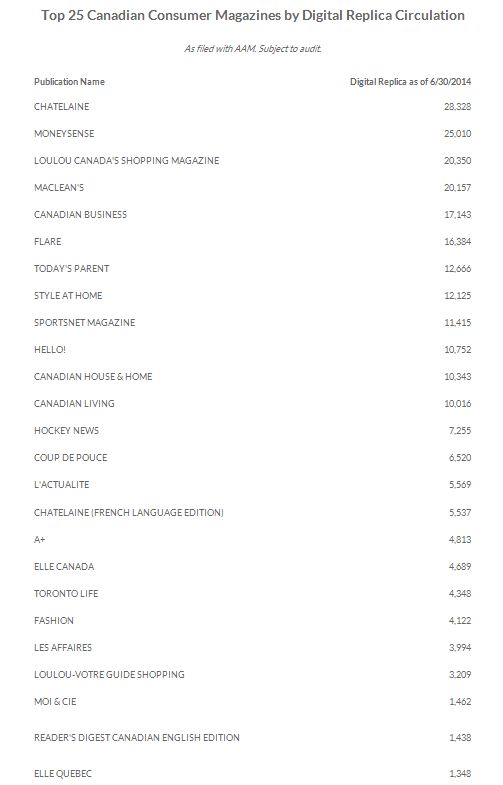 Tags: AAM, Chatelaine, Reader's Digest, Rogers Media