The Verdict: Wasaga Beach is for Quebecers
How a Quebec-focused agency turned a small budget and limited timeframe into a campaign that made the world's largest freshwater beach an attractive spot for a spontaneous vacation.
Making an unknown destination attractive to prospective vacationers from Quebec is one thing. Doing so with limited time and a small budget is another. But Headspace Marketing found a way to turn their challenges into key features of a campaign to promote the town of Wasaga Beach, Ontario to Quebecers during the most popular vacation time of the year.
In May, Jenny Legget, economic development and communications officer for the Town of Wasaga Beach, reached out to Headspace based on its familiarity with the Quebec market. The town wanted to attract tourists from Quebec during the construction holiday, a two week period at the end of July that is the most popular time for travel and vacations in the province.
The difficulty was in two aspects: time and money. Wasaga Beach could only provide a $25,000 budget, and had reached out at a time when most people already had their summer vacation plans set. Headspace commissioned research from Leger Marketing and found that Quebecers who were willing to leave the province had two main destinations in mind: New England and Atlantic Canada. The company also found that many Quebecers were also unaware of Wasaga Beach, or any tourist destination in Ontario that wasn't Toronto or Niagara Falls, for that matter.
"If you look at the noise in the media in Quebec, a lot of [vacation marketing] is about beach destinations, and a lot about the beaches of New England," Eric Blais, president of Headspace Marketing, tells MiC. "If you go there, there's French Canadians everywhere. It's only a six hour drive from Montreal. [Wasaga Beach] is a tough sell against that, so we wanted to contrast what Wasaga Beach offered that was different from the others."
Instead of focusing on what Wasaga Beach had, the company decided to centre the campaign on what it didn't have, at least compared to the other vacation destinations.
During a two-week blitz leading up to the construction holiday, the creative in the campaign aimed to peak curiosity by pointing out that Wasaga Beach is the world's longest freshwater beach, then differentiated it from other beach destinations with the line "Pas de requins. Pas de dollars américains," or "No sharks. No US dollars." This made Wasaga Beach seem like a place that was easier to get to than the US and safer than the ocean to swim in.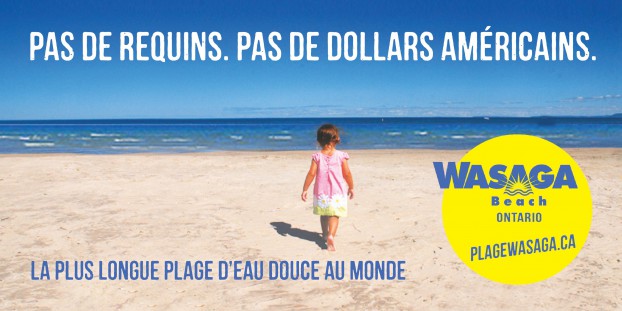 Most of the budget went towards a media buy on radio in Montreal, with Bell Media offering a package that allowed Headspace to run 10- and 15-second spots on RadioNRJ and Rouge FM and receive ad space on the stations' websites. The rest of the campaign was focused online, with creative provided by Parkour3. Headspace launched a dedicated French microsite offering information on local business and a chance to win a holiday package, as well as a French Facebook page.
Besides being more cost effective, the social campaign allowed the agency to directly target and track its core audience and prompt spontaneous travel.
"This is anecdotal, but looking at the Facebook comments, we got that sense that people were considering it as a last minute destination after seeing it and learning about it after it was shared by others," Blais says.
Wasaga Beach originally wanted the campaign to focus on young families, as opposed to the image of a party-oriented destination. But Headspace decided to use their time constraints as an advantage, making Wasaga Beach a location where it was possible to have a spontaneous trip, speaking to those who had not yet made vacation plans, and shifting the focus to "young socializers."
"[Families] want to know where they are going with their young children," Blais says. "They need to be more certain of their accommodations and that there's going to be activities for them to do. That requires a lot more pre-selling. The data suggests that younger, socially-oriented people were more likely to just jump in car and go. And the idea of travelling to unknown destination on a lake fits more with the nature of a spontaneous experience, rather than a planned one."
The research also suggested the younger Quebecers were more likely to travel to non-French speaking locations and locations outside of Quebec. However, by making sure all of the marketing was in French, Headspace also made Wasaga Beach seem like a place that was very friendly and open to Francophones. This was important, as the research showed that upwards of 70% of Quebec travellers expected those in Ontario destinations to make an effort to speak French to them.
"They like to move in packs and like to be together," Blais says of Quebecers' preference for being surrounded by the language. "If you go to the beaches in New England, everyone is speaking French because that's the known destination. Atlantic Canada as well. We had to make a location that was already fairly unfamiliar come across as being open for business when it comes to French speakers."
Over the space of only two weeks, the microsite had logged 3,500 page views and the Facebook page had attracted over one thousand followers. Headspace wasn't able to obtain numbers from the previous summer to tell if more visitors from Quebec had actually visited Wasaga Beach, but awareness of and intent to visit Wasaga Beach did go up. Within the target demographic, there was a nearly 10% growth in those that had heard of Wasaga Beach after the campaign than before, and 8% growth in those that said they would be interested in taking a vacation there.