Juice Mobile rethinks the flyer
The company has launched a mobile flyer unit with Calgary Co-op that updates the deals shown based on where the user is viewing the content.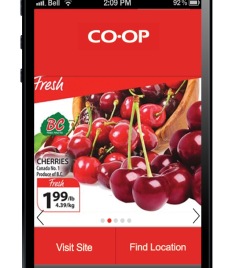 Juice Mobile has launched a new mobile flyer ad unit aimed at cutting down on some of the inefficiencies seen by current print and static digital deal blasts.
Partnering with food retailer Calgary Co-op and its agency DSA Media for the first test, the rich media mobile flyer unit delivers different content based on where the user is viewing the deals so they aren't seeing things that aren't relevant at that time or available in the area they will be shopping.
Neil Sweeney, president and CEO at Juice Mobile, tells MiC that his team saw the flyer space, which sees its print product served based on static postal code home delivery as an area ripe for mobile disruption using the location features on today's devices.
"Retailers are spending up to $100 million on flyers a year," he says. "We have tried to create something that can supplement flyers. Each flyer in our unit is made from a digital feed so you can get one version based on your postal code in Toronto when you're there, and one with different deals if you're at the cottage."
Data from the initial rollout of the mobile flyer unit with Calgary Co-op showed that it delivered a 50% lift in engagement over standard mobile ad rates. Sweeney adds those flyers were delivered at 5-10% of the cost of a traditional print flyer.