Tim Armstrong hopes AOL will be doing the disrupting
The CEO reveals a new diversity initiative with the IAB, and talks about how AOL is finally digging itself out of "the worst merger in history."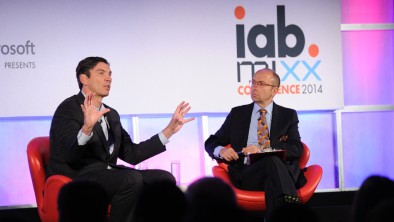 By Aaron Leaf
Promising total disruption of the advertising industry, Tim Armstrong, the chairman and CEO of AOL, announced on Tuesday that he will be leading the new US-based IAB Education Foundation.
The group will be dedicated to the training and development of talent in the industry with an eye to racial, ethnic, gender and economic diversity. It's meant to be a counter-criticism to the notion that advertising and tech are the domain of white men. Armstrong, who acknowledged that AOL will not release their internal diversity data like Google and Facebook have done recently, said it's because he's determined to find a "solutions-based approach" to the problem.
Unveiled on the second day of the Interactive Advertising Bureau's (IAB) MIXX Conference, Randall Rothenberg, the IAB's president and CEO, said from the stage that the Education Foundation is more than just the right thing to do: "In the advertising media industry, we're supposed to be ahead of the culture, and how can you do that if you're leaving behind 80% of the population?" he said.
Armstrong and Rothenberg will soon embark on a "travelling roadshow" where they'll engage digital advertising and media industry types around the US to learn from their experiences and spur a bottom-up change in the industry. This is to counter top-down solutions to the problem, which Armstrong believes are fundamentally misguided.
Armstrong also intimated that companies with a more diverse workforce would be more competitive in the international marketplace. He pointed to the recent Alibaba IPO as an event that should create urgency around the issue. "We either have to go out looking for diversity or diversity is going to come to us," he said.
The announcement about the Education Foundation was made at the end of Armstrong's keynote, during which he discussed the future of digital advertising and AOL's strategies to stay relevant in a marketplace of constant change.
"The internet business is about to get disrupted again. I hope our company is one of the ones that does the disruption and avoids getting disrupted," Armstrong said, noting that after going through "the worst merger in history" with Time Warner, AOL is finally digging itself out and focusing on the next evolution of its business.
Armstrong plans to focus both on culture and code, giving equal weight to the tech side like their Devil ad format while continuing to grow media brands like Huffington Post and TechCrunch. Unlike many industries, advertising, Armstrong believes, has not yet been transformed by technology. This is still to come with the increase in the use of data.
The metaphor he prefers to use for data is oil. Thanks to smartphones, as the oil pumps, it's feeding the beast 15.5 hours a day per person, creating 25 target-able terabytes of data per hour. One of the goals for AOL is to use this data to create media properties built on the fly. With a trillion ad decisions being made a day within its system, Armstrong says this staggering amount of information will need machines to make sense of it, as these kinds of numbers are now beyond human comprehension. Total disruption, Armstrong said, means being "willing to change everything."
Image (left to right): Tim Armstrong and Randall Rothenberg at IAB MIXX in New York City
From Stream Daily