The Globe's native expansion
After launching in beta this spring, the national newspaper has expanded its native advertising program to all sections aside from the homepage.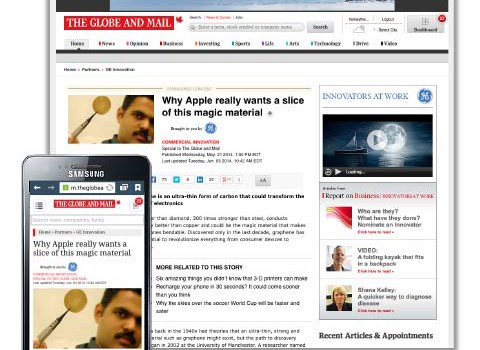 The Globe and Mail has announced it is expanding its Globe Native advertising program, making native advertising options available on all of the paper's desktop and mobile pages aside from the homepage.
A beta test of Globe Native was launched in the spring, with client GE and its agencies MEC and Matchstick running native advertising on selected ROB and World News article pages.
Results of the initial round of Globe Native, which is being run with Polar Mobile, surpassed the click-through rates and engagement benchmarks set by three times, Teena Poirier, director, client engagement and content marketing group at the Globe and Mail, tells MiC.
Poirier says the Globe anticipates Globe Native to represent a "significant contribution" to its overall digital revenue growth when numbers come in from the official launch.
Native advertising on the Globe mirrors the look of editorial content, but is marked with a "Sponsor Content" label.