Revlon goes looking for love
To promote its first new tagline in a decade, the cosmetics company is launching a media plan that includes its first OOH ads and dating websites.
Intending to break out from what she calls a "sea of sameness" in the beauty category, Martine Williamson, SVP of global marketing at Revlon has kicked off a brand relaunch, aiming to connect with consumers around emotion.
All communications in the campaign will centre on the tagline "Love is On," a message conceived by new CEO Lorenzo Delpani, and launched with interactive billboards at Toronto's Yonge-Dundas Square and New York City's Times Square earlier this week. Passersby can share their messages of love through the hashtag #Loveison.
The OOH ad features the first element of the campaign, a "manifesto" that echoes the message of emotion and love over the brand's product mix. The video will also live online and through a TV buy.
The campaign features the first new tagline for the brand in more than a decade. Canadian media work in the campaign is from MediaCom with global creative from AR New York and Union on social media.
"As Revlon we want to promote from a place that is emotional and positive," says Williamson. "There are a lot of brands going into the emotional space and after people's insecurities. We want to go after happiness and love."
The campaign is targeting Revlon's traditional target of women aged 18 and older, with the core target of 25 to 39 year olds.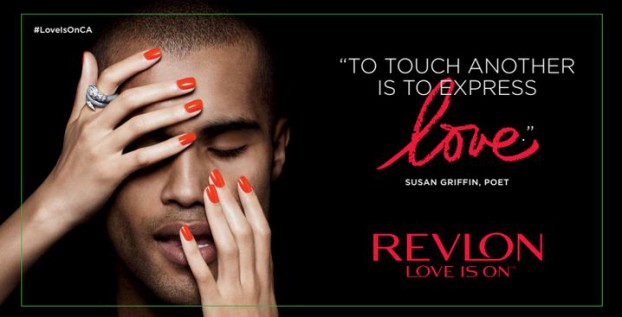 Messaging in the new campaign will be segmented into three stages: women looking for love, those in love and those in long relationships looking to keep the spark alive.
Targeting consumers with a more emotional message means using different tactics and platforms for the brand, explains Williamson, citing the example of buying print ads in wedding magazines rather than just fashion titles.

In addition, the brand is using OOH for the first time and will be rolling out advertising on dating websites in the new year, all part of the brand's plan to be present "where people are looking for love." Williamson says the affiliation with dating sites will extend beyond advertising and into partnerships, with more details  becoming available in the new year.