Paying for airtime with gift certificates
Bell Media's relaunched daily deals site offers a different way for brands to buy ads.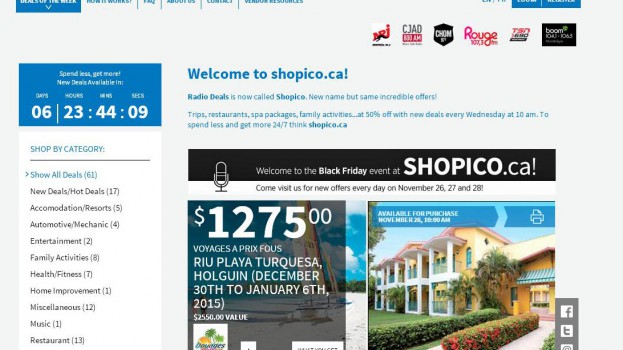 No money? No problem. Bell Media Radio is courting retailers in Quebec with small or non-existent ad budgets by swapping ad space on its stations in exchange for the rights to sell the retailers' goods and services at discounted prices.
This week the company re-launched a daily deals site, Shopico.ca, where consumers can purchase 50% off certificates for things like vacation packages, chocolate-tastings or gym memberships. Those products and services are sold to Bell Media by local retailers in exchange for a credit of equal value (a $100 certificate buys $100 in advertising budget) that can be spent on advertising.  Bell then takes charge of selling the deals and keeps the revenue from the sale.
The platform first launched three years ago under the banner RadioDeals, says Peter Georgariou, GM, Quebec local sales, but was spread over six separate sites under different radio titles. The relaunch creates one centralized hub for all of its radio properties. It also opens the door for other Bell platforms outside of radio, like CTV, to leverage it for ad sales.
It's a way for Bell to "target smaller clients that don't necessarily have a budget to advertise," Georgariou says. He adds that many clients are using the platform as a way to liquidate inventory.
"We can add it on to our current clients whose budgets are tapped out and want to grow their overall budget via certificates, but mostly it opens up a whole new client base," he explains.
The relaunched site is being advertised through Bell's Quebec radio stations and their digital properties, but Georgariou says the plan is to run a campaign in the new year across Bell's digital, radio, TV and OOH properties in the province.
He also notes that this is the first time Bell is putting a significant promotional push behind the site. Previously Bell Media relied on organic growth as its sales team gained familiarity with the concept of selling air time in exchange for gift certificates.
"As much as we've been in radio and TV forever, we have only been in this business for a couple of years. Adoption internally is growing, but I wouldn't say we are at full capacity," Georgariou says. "We went for the low-hanging fruit of restaurants and spas but we have seen it evolve in the last couple of years into [items like furniture and cars].
"We have done more and more things as the sales force has gotten more comfortable and as clients start to see it as a way to finance their marketing spend," he adds.
Georgariou would not say what percentage of sales are attributed to the deals-for-ad-space model, but says that it is the fastest growing product segment for the radio sales team.