Redefining the store directory
IGotcha Media's new digital wayfinding kiosks can offer shoppers discounts as they search for a shop.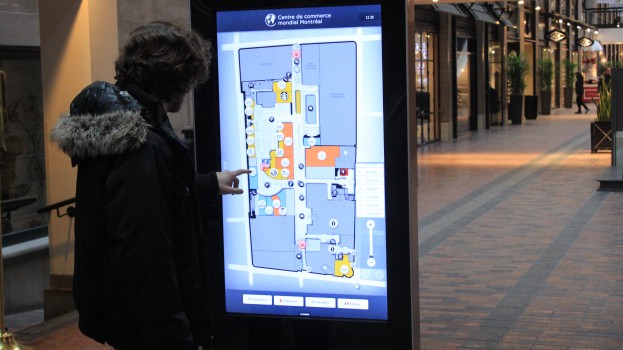 Even as digital has transformed signage, mall store directories have remained relatively unchanged over the years. Shoppers are used to crowding around a board and peering at a backlit poster with categories including unisex fashion or electronics.
Not so at World Trade Centre Montreal, where four new interactive store directories were made operational this week, making it possible for consumers to search for stores and offering a unique way for retailers to drive traffic to their stores.
The digital wayfinding kiosks, developed by Montreal-based iGotcha Media, make it possible for retailers to offer a promotion to someone accessing the directory, says Greg Adelstein, president, iGotcha Media. For instance, a coffee chain could request a user's email in exchange for a code word to receive 10% off a beverage, or reward a visitor who searches for its location with a two-for-one deal.
"When somebody clicks on Starbucks to figure out the fastest way to get there, that's when the two-for-one code can come up," Adelstein says. "It's really targeted that way and offers the customization people have come to expect."
In addition, the kiosks can display both video or static images when not in use and display banners while someone is looking through the directory. For a mall manager, the software makes it simpler to update the directory as tenants change.
Another advantage, as with everything digital, is the ability to measure how many people are actually tapping on the screen to activate a session, so an advertiser could know how many people were served its ad.
IGotcha Media developed the software and Adelstein says it can either manage the signage for clients or provide them with the software to manage on their own. In the case of the World Trade Centre, which includes boutique shops, restaurants as well as banks and a medical centre, real estate company Ivanhoé Cambridge is managing it. No advertisers are currently on board for the kiosks there.
The kiosks also offer floor plan maps, or "breadcrumbs," that show the quickest path to a specific destination, as well as a calendar of events.