The Shaw Fire Log is ready to roll with you
Shaw Media is stoking the flames for its holiday-season staple with a new campaign and mobile app.
The Shaw Fire Log is burning a little brighter this year as Shaw Media focuses its holiday campaign around its televised fireplace.
The log, a holiday staple that has appeared on Shaw customers' TV screens since 1986, was re-shot in 5K high definition this year and made available as a mobile app, allowing users to light the fire with a swipe of their thumb. Users can play games, like wiping away smoke, and connect to an Rdio account (presumably to play some festive tunes). 
Lara Johnson, VP advertising at Shaw says that the log, which proves popular with people who live in apartments or condos, had been downloaded more than 26,000 times as of Monday.
"So many folks in lower mainland Vancouver live in multiple-dwelling units that may not have fireplaces," Johnson says. "The more folks we talked to, the more we realized this fire log is really something that is shared. We really wanted to take this to the next level."
Indeed, the log's Twitter feed (active since 2010), is full of excited comments from some of its 12,000 followers who respond to its pun-filled tweets, like "What''s that? You want to hang out tonight? Well if yew are offering, oak-ay!"
To promote the burning wood, Shaw shot a 3o-second spot to air across its video properties. It depicts a young boy calling a cable technician for help because he's concerned Santa may be injured by the log's flames.
In addition to the commercial, Shaw put paid media support behind promoting app installation on both Facebook and Twitter. Organic tactics on social include a call-to-action for people to share photos using the app.
For each post or tweet using the hashtag #Shawfirelog, Shaw is donating $1 to Kids Help Phone. The company has sent out "ugly Christmas sweaters" – a bright red sweater with a smartphone slot – to some of their more active users, the idea being its wearer will download the app and put the mobile fireplace on their chest.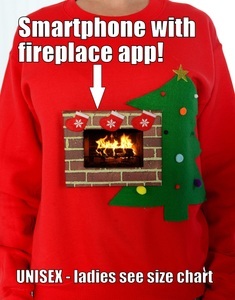 This campaign, started Nov. 28, will be extinguished on Jan. 5.
1