CTV plans ad-free encore broadcast for 19-2
Bell Media is hoping to give its original Bravo drama an extra audience boost with a commercial-free encore on CTV.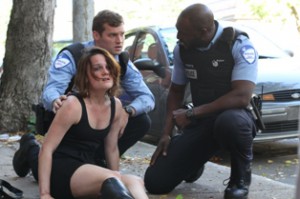 Bell Media is borrowing from the premium cable and SVOD playbook, re-airing the second season premiere of cop drama 19-2 without commercials.
The rookie season of the English language 19-2 premiered on Bravo, encored on CTV to another 870,000 Canadians, and then went back to Bravo for a successful run.
So, repeating that launch strategy, CTV plans an encore broadcast of the second season premiere of 19-2 on Tuesday, Jan. 20 at 10 p.m.
What's more, the CTV broadcast a night after season two of 19-2 bows on Bravo on Jan. 19 will be free of advertising for the entire hour.
The commercial-free airing is prompted in part by the opening second season episode featuring a single, uninterrupted, 13-minute, single-camera tracking shot.
The CTV broadcast will be followed by a short vignette about the making of the debut episode.
Ahead of 19-2 returning, the first season of the police drama is available for catch-up viewing on CraveTV.
19-2 stars Jared Keeso and Adrian Holmes in a drama about two unwilling partners of the Montreal Police Department, thrown together after the death of one officer's partner.
From Playback Daily