Smartphone use rises for millennial moms: report
Canadian mothers in the millennial demographic are spending twice as much time online than in 2012, according to Johnson & Johnson's BabyCenter website.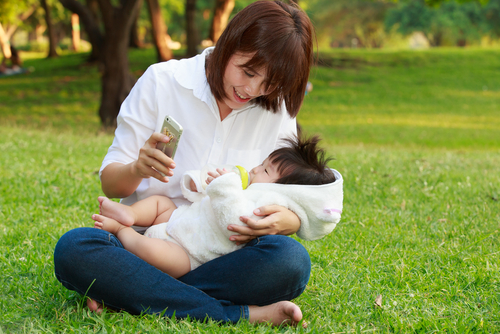 It can be lonely being a new mom, so it comes as no surprise that as smartphone use has exploded, so too has the time that millennial-aged mothers spend online via mobile devices.
According to a new study from Johnson & Johnson's parenting-focused editorial website BabyCenter, Canada's millennial moms have doubled the amount of time they spend surfing the web on their smartphones since 2012.
The report, which surveyed 10,533 women from Canada, Brazil, China, U.S. and U.K who were either pregnant or had children aged 0 to eight, revealed that in 2014 Canadian moms spent 2.2 hours a day on their smartphones, as opposed to 1.1 hours per day in 2012.
Between 2012 and 2014, smartphone ownership among millennial moms also rose from 59% to 94%, while the number of laptop and PC owners dropped from 99% to 86% over the same period of time.
BabyCenter's research for Canada, which included 853 women, showed that millennial moms (18 to 32 years-old) have a keener eye for ads when compared with Gen X moms (35 to 44 years-old). They are 71% more likely to notice ads on mobile devices, and when it comes to actually watching ads on screens – mobile or not – millennial moms are apparently 44% more likely to do so.
In terms of marketing, unsurprisingly, ads featuring families or babies are more likely to connect with this demographic. However, the trend wasn't universal: BabyCenter's global research found that only 46% of Chinese millennial moms were affected by family or baby-related advertising, in stark contrast to Canada's 70%.
Digital advertisements that are applicable to the daily lives of mothers and their children are also more engaging, said 58% of the study's participants.
The old adage that your priorities change when you have kids is true, according to the study – especially in Canada. Canadian millennial women are more likely than their equivalent demographics in Brazil, China, the U.S. and U.K to alter their purchasing patterns when they have children. One example cited by the study shows that 38% of U.K. millennial moms say they would change their grocery buying habits, compared with 71% in Canada.
Across various categories, the likelihood of brand switching in millennial moms returned these results: groceries (71%), cleansers/detergents (58%), personal care/cosmetics (52%), consumer electronics (50%), apparel/accessories/shoes (49%), financial services (49%).
The research for the report took place in November and December 2014.
Image courtesy of Shutterstock