Blue Jays, OMD, Cineplex Media swing for the fences
The ball club and OMD pitched in to bring an interactive baseball experience to more than 5500 people in two Cineplex theatres in Toronto.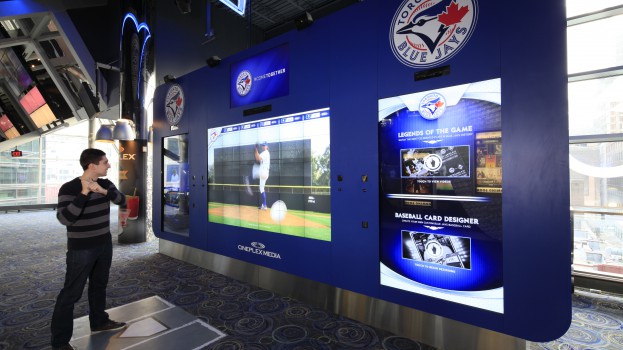 Toronto-based Cineplex Media and media agency OMD partnered this spring with the Toronto Blue Jays on an interactive baseball-themed installation designed to drive ticket sales in the first week of the new baseball season.
The activations – which used Cineplex's Interactive Media Zone, an area in a select number of theatres consisting of large interactive screens that can be customized to client requirements – were first opened on March 20 and since then have seen in excess of 5500 interactions. The dwell time for this activation, however, was two minutes longer than any other previously used in a Cineplex Interactive Media Zone, according to information provided by Cineplex.
The experiential offerings, found at Cineplex Cinemas Yonge-Dundas and VIP and Scotiabank Theatre Toronto, invited cinema goers to take a virtual swing at a knuckleball, view clips of historic Blue Jays moments and build their own player card, which could be shared on social media.
Users of the activation were also able to take their personalized card away with them via an email or SMS, which contained a link to purchase Blue Jays tickets.
The focal point of the installations was an 84″ digital screen, which was used in its full capacity for the first time for the Blue Jays activation.
The screen uses an array of content-manipulation and image capturing technologies for gauging touch and gesture, as well as the ability to connect to social media and capture participant data. The centrepiece of the activation was users' ability to swing at a ball pitched by Blue Jays player R.A. Dickey. Users were given a sharable score based on how well they "strike" Dickey's knuckleball.
The execution's primary target was an 18-to-44 year-old demographic of baseball fans in the Greater Toronto Area, of which 65% are cinema-goers, Blue Jays research indicates. The campaign's aim was to give fans a first-hand baseball experience that incorporated social media sharing opportunities in order to drive ticket sales for the opening week of the Blue Jay's season.
In the future, the three companies involved in the project say they would look to create a greater buzz surrounding the activations by including guest appearances from current or past players, as well as providing greater incentives, such as Blue Jays prize packages, for users of the activation.
Cineplex says it plans to roll out more Interactive Media Zones in its theatres throughout the year.