Vice Canada shows off its nose for news
Focusing on "under-reported issues," the media co's dedicated news team aims to target more than just millennials with its content.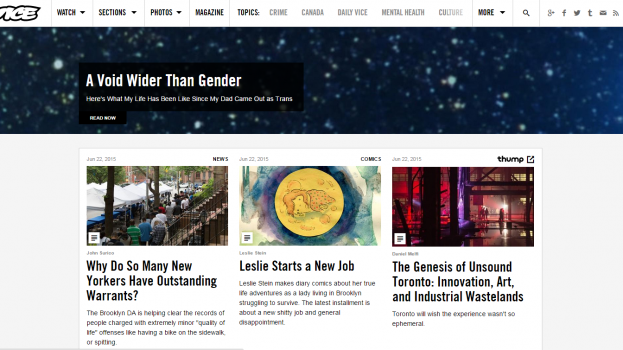 At long last, Vice is finally revealing key details behind its news strategy for the Canadian market.
The youth-focused media company has announced the team of five journalists that will helm its Canadian news operations. The team will produce content for News.vice.com and the brand's YouTube channel. 
A series of ads promoting the news site are now airing on Rogers Media specialty channels and radio stations.
This is the latest market Vice has launched a dedicated news team for, after the U.S., the U.K, France and Spain. Global markets to follow in 2015 are Mexico, Germany, Italy, Australia and Brazil.
Focusing on "under-reported issues," the Vice news service will cover beats including security, human rights and the environment. 
The team of dedicated Canadian news content creators is being led by Natalie Alcoba, who started in the role two months ago. The goal is to fill a gap in Canadian news coverage, going beyond the youthful spin of its traditional content, she explains.
"We wanted to be a new media presence here, making sure that some of the big news events get coverage, but beyond that, those stories that are flying under the radar, whether [those stories are on] first nation issues, the environment, security and surveillance or human rights."
Alcoba worked at the National Post for 10 years, and was City Hall reporter in her last position. As managing editor at Vice, she will oversee all editorial content produced by a team of four full time staff, as well as run freelancers based across the country. The company has also hired former CBC associate producer Allya Davidson as producer.
Among its new staff are investigative journalist Justin Ling, who will cover parliamentary issues and Rachel Browne, formerly at Maclean's Magazine who is focused on human rights and religion-based issues.
After launching two months ago, the team has since covered topics ranging from Omar Khadr's release, the Truth and Reconciliation Commission report to the Supreme Court of Canada's decision on marijuana.

The editorial team focuses on feeding written content to vicenews.com, and also helps develops short and long form documentaries based on the kinds of stories that would fit a video format.
In June the company announced a slate of new shows including Shroom Boom and Gaycation with Ellen Page.