Elle Canada's 'virtual' September
The magazine is celebrating a month of firsts for its September issue, with a virtual reality cover and its largest-ever fashion spread.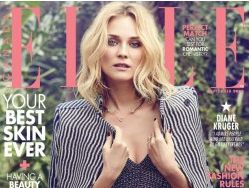 Despite popular perception, October is actually bigger advertising month for fashion title Elle Canada than September, according to VP and group publisher Jacqueline Loch.
But with the September issue being one of the year's highest-profile regardless, Elle Canada is using the issue as a launchpad for cutting-edge use of tech and its biggest fashion spread ever.
Partnering with Toronto-based PCP VR and Samsung, Elle Canada's September issue will feature a "virtual reality" cover. Actress Diane Kruger stars as the cover model for the shoot, which will be officially unveiled at the Tastemakers Lounge during TIFF on Sept. 9. When users view the otherwise 2D cover with a virtual reality set, like the magazine partner's Samsung Gear VR, they see a 360 video of the Los Angeles cover shoot.

The initiative aims to meet reader demand for high-quality, mobile-linked content, says Loch. The techy cover is an extension of work the magazine has been doing to draw readers into its shoots over the past year, such as live-tweeting with past cover models like Hilary Duff and Emma Roberts.
"We know our readers are early tech adopters and we know they engage, and we've been watching VR technology evolve in media around the world," says Loch. "The conditions were right: the right cover model, the right location for the shoot, the September issue, and great technology partners willing to join us on our VR journey."
In addition to the VR cover, Elle Canada has changed up its fashion editorial for the issue, lending 20 pages to one story for the first time. The fashion spread continues the issue's focus on eccentricity, with Loch noting the trend comes following a period of more neutral dressing.

Looking ahead to the title's biggest issue of the year in October, Elle Canada has model Cindy Crawford on a non-VR cover, with the issue wrapping around the theme of inspiration.