Measuring TD's pride campaign on Instagram
Brand recall and awareness about TD's support for the LGBT community went up as a result of #ForeverProud, a photo ad campaign on the social network.
With Instagram advertising still in its early phase, final data from TB Bank's Pride Week photo campaign shows a little photo love can go a long way toward boosting brand awareness.
The campaign, which ran between June 15 and July 12, was promoted through the hashtag #ForeverProud and featured five pieces of creative. It was part of the bank's efforts to develop a visual campaign to reinforce its long-time support for the community in the 11th year of its participation in Pride Week. 
Leo Burnett worked on the creative with Starcom MediaVest, TD's media agency of record.
The four-week campaign reached over 1.1 million people and generated 3.8 million impressions, according to data released by Instagram.
The campaign is part of TD's goal to develop more innovative campaigns using social media, according to a TD Bank spokesperson.
Rick Malhotra, head of measurement, for Instagram in Canada says the measurement for the campaign was focused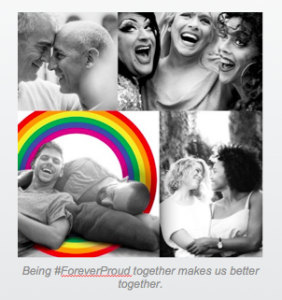 on seeing a lift in brand metrics like awareness and association. That was based on TD's campaign focus on building awareness about its commitment to the LGBT community. As such, the campaign also provides insights on how marketers can measure their success on the company's platform.
TD, for instance, was able to to remarket to those people who were seeing their ads on Instagram with a campaign on Facebook. "This allows the marketer to increase the frequency at which Canadians see their message and leverage the benefits of both platforms," according to Malhotra.
The response to the TD campaign allowed Instagram to develop a custom audience through the campaign response, and remarket to people more efficiently on Facebook.
Instagram's measurement starts after a campaign begins and while remarketing is available seven days into the campaign, overall results are only available to marketers at the end of a campaign. "This is to ensure we have an appropriate sample size of respondents from which to draw the most accurate conclusions."
Overall, the engagement had a strong impact on brand recall as well, seeing a 36-point lift in ad recall, according to Nielsen Brand Effect's measurement released by Instagram. The campaign also resulted in an 18-point increase in people's awareness of TD's support for the LGBT community, and in an eight-point increase in the brand being associated as LGBT-friendly. The campaign had the most impact in terms of brand recall and brand awareness among the 35-to-40 demo, and among females, seeing an 11-point increase in women associating TD as LGBT-friendly.