La Carte uploads inaugural quarterly issue
With its inaugural issue, the digital travel quarterly looks to build ties with like-minded brands.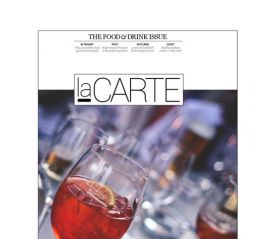 If Ryszard Kapuściński, master of the travel narrative, was alive and still exploring the world you might find his writing in La Carte, an online travel magazine that has debuted its inaugural quarterly issue with the aim to bring richer narrative to the digital travel space.
The online magazine launched its web presence in February this year, executing a number of sponsor partnerships to promote itself, including one with Zipcar in Ottawa.
The inaugural issue, which has 44 flippable pages, with content built around a food and drink theme, targets a 25 to 55 year-old Canadian traveler who is already familiar with the known landmarks of international destinations, and wants to go deeper in his or her travel experiences.
Brands partnering for the issue include the Canadian divisions of Wines of South Africa, Intrepid Travel and Trafalgar, The Travel Corporation.
"The quarterly is what we are resting our hats on," says Maryam Siddiqi, editor-in-chief of La Carte. "We launched as an entity in February but everything we were working towards was leading up to this quarterly…We're not targeting a fresh-out-of university or backpacker type of traveler." The typical reader that La Carte is aimed at has a $85,000-plus household income.
To that end, the publication strives to offer deeper insight about places and to provide readers with a minimalist visual experience.
Siddiqi says La Carte is being conscientious about its online advertising strategy. While looking for partnerships with like-minded brands, it aims to develop custom opportunities instead of offering more typical banner ads. Its first partnership is with the Far and Wide Collective, a Canadian fair-trade business that sells products made by craftspeople from post-conflict and emerging countries.
The wine and food issue includes a feature on the best eats in financial districts in cities as far apart as Toronto and Singapore. And for those traveling across Canada, one story lands readers smack in the middle of a B.C. desert – Osoyoos – and explores the local food and wine world.

The magazine's next issue, which will hit the digital newsstand in December, will focus on luxury travel with the theme "Go For Broke," with following issues focusing on adventure and then, cities.