Global News ties up with Twitter for election night
To keep viewers glued across screens for the biggest political event of the year, the channel has partnered with the social media platform.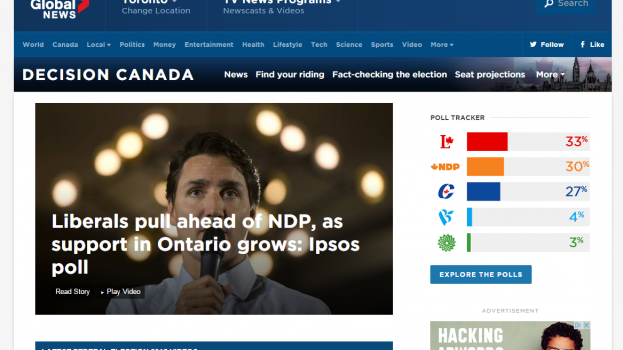 With the election campaign heating up and the possibility of a potential minority government looming, Global News has launched an election-night social campaign that will keep viewers on top of news with real-time updates, analysis and conversation.
On Oct. 19, as Canadians head to the polls to elect their future leader, the news channel will show data visualizations and conversations from Twitter to keep Canadians in the loop with conversations across the country and provide real-time results and analysis of leaders' performances as the night progresses.
Although some stories and shared content will show up on Global News's website and on-air ahead of Oct. 19, the bulk of content sharing will happen on election night, says Shauna Rempel, Global's social media strategist, who was the force behind the partnership.
The announcement heralds the first formal partnership between Global News and Twitter Canada, and will be promoted through the hashtag #elxn42.
"When you're talking about elections night and breaking news, when there is something unexpected happening and it is of a political nature, we know that the audience will already be flocking to Twitter, so it made sense that we capitalize on that space and reflect the conversation back on our other platforms," says Rempel.
As part of the partnership Twitter will be sharing data and conversations with Global News both on-air on online for desktop, tablet and mobile. Twitter will share data visualization technology exclusively with the channel's Decision Canada special broadcast, which will be hosted by Global National's Dawna Friesen and Tom Clark of The West Block. In addition, Twitter Canada's Steve Ladurantaye will make regular appearances to provide analysis of news as its breaks.
Exact details around what is being shared are not yet being released but Rempel says the news organization wanted to stay on top of the conversation around the event as news trickles in. "There will be reactions to announcements, upsets and landslides and we will be able to track reactions to that."
Coverage begins at 7 p.m. ET on Global Halifax, Global New Brunswick, Globalnews.ca and Global News: BC-1 and across the rest of its network at 9 p.m. ET.