L'Oreal Men shows its game face
Changing up the creative to feature consumers rather than celebrities, L'Oreal Men Expert is asking men to put their best face forward.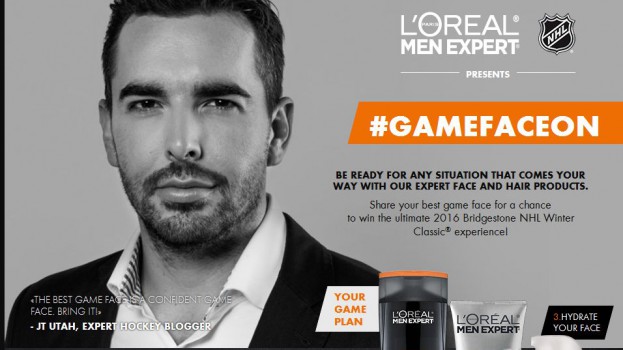 L'Oreal Men Expert is changing up its NHL partnership plan, swapping celebrity sponsors with everyday people for its new campaign.
The #GameFaceOn campaign features media from GroupM's L'Équipe L'Oréal and creative from Marketel. With the brief of bringing new users between the ages of 18 and 49 to the men's skin care category, the campaign asks men to upload their best "game face" to a microsite for the chance to win a pair of tickets to the 2016 Bridgestone NHL Winter Classic. 
With a primarily digital buy coupled with in-arena product testing, the campaign is live across the NHL digital network, including the league's team sites and social media properties. The face of the contest itself is JT Utah, the Montreal-based hockey blogger behind 25stanley.com.
"We are trying to grow men's face care by focusing on men who are currently not using face-care products or don't have a face-care routine," says Dorothy Zarska, strategy director, L'Équipe L'Oréal, GroupM. "Naturally this ends up skewing the target a little younger."
Jo-Ann Munro, creative director, Marketel, says last year's NHL star-focused videos built a solid base for L'Oreal Men Expert, but this year the brand wanted to turn the camera around to reach a wider base of users.
"We wanted to show people it's not just about the celebrities, it's also about them," she says. "There isn't a lot of noise in the men's skin care category, so we want to get in there and own it.
We need to get momentum in the category. It's a stigma that only women take advantage of their skin, want to show that it's not un-manly to do it."
The #GameFaceOn campaign has been live for three weeks and to date has seen one thousand men upload photos onto the site. Ads in the campaign will be live throughout the NHL season, with a bigger push coming closer to the playoffs.