Charting the growth of Canada's video market
The latest report from Videology shows that 15% of ads on its platform were for mobile-only campaigns.
Mobile advertising continues to grow across Canada, according to the latest quarterly report from Videology.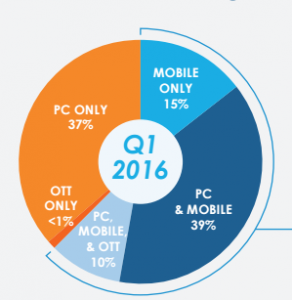 Ads were placed on mobile devices for 64% of all Canadian campaigns on the provider's platform, marking a 12% increase over the previous quarter. Most digital campaigns (37%) were run on PC only, but cross-screen utilization grew by 5% overall and was used in 49% of campaigns, compared with 45% in the previous quarter.

The "Canada Video Market At-a-Glance Q1 2016″ report is a continuation of the company's market series, which examines developments in the video market and is based on data pulled from the company's platform (175 million impressions run through the first quarter) and analyzed by an in-house team of experts.
Mobile-only campaigns are gaining traction, registering a significant increase and making up 15% of video ads on the platform, compared with 3% in Q4, 2015.
According to the Videology report, view through rate (VTR) remained the most-used metric, with 85% of campaigns registering VTR as a campaign objective. But "viewable rate" (or the amount of time spent with a video) has gained traction for clients, seeing a 9-times year-over-year increase to be a part of 46% of Canadian campaigns.
Advertisers continue to finesse their targeting efforts, with 50% of impressions using behavioural targeting data, an increase of 11% over the previous quarter. Also 49% of campaigns employed frequency caps.
And while 92% of campaigns were bought in by CPM, the platform's research shows an increase in ads bought using dynamic pricing (DCPM). Meanwhile, those bought on a cost per completed views (CPCV) basis dropped 40% this quarter.
In terms of duration, 15-second spots made up the bulk of video ads (50%) but their share declined, registering a 15% drop.   
The auto industry continued its domination of the video ad market, making up 26% of all ads. The consumer packaged goods industry saw a decline of 9% over the previous quarter, with its share comprising 16%. Restaurants, however, saw an increase entering the top 5 list of ad categories with an 18% contribution to the total pie.
Image courtesy of Shutterstock