Ari Bluman of GroupM passes away
The agency's chief digital officer for North America succumbed after a long battle with cancer.
Ari Bluman, GroupM's chief digital investment officer for North America died earlier this week following a lengthy battle with cancer. He was 44 years old.
Bluman joined GroupM in 2012 as the company's first chief digital investment officer. Prior to joining GroupM,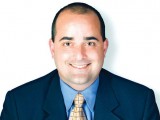 Bluman spent 15 years at 24/7 Media, leaving as North American president of its Real Media Group in 2012.
In a note to staff, GroupM chairman Irwin Gotlieb stated that Bluman's contributions to the business will survive him, noting his work has helped benefit the entire industry.
"We can only hope to leave a similar legacy as business people and friends," he said. "We can only hope to live our own lives with the same determination and effect."