Joe Fresh buys FASHION cover
The St. Joseph Media print pub has launched a multi-pronged branded-integration play in partnership with the Canadian retailer.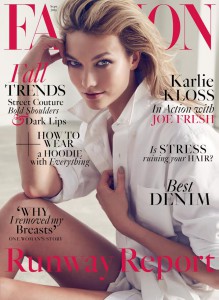 Supermodel Karlie Kloss is on the September 2016 cover of FASHION Magazine, a result of brand-integration partnership between the publication and retailer Joe Fresh.
The integration, which spans both print and digital platforms, is the first brand-driven execution of its kind for the magazine and includes an eight-page cover gate-fold as well as a second cover.
Brands looking to get more consumer engagement as a result of their media spend are looking for more innovative ways to plan and spend media. The deal with Joe Fresh emerged from an RFP process for which the magazine pitched the concept. 
The resultant FASHION execution has multiple executions as part of the integration. The cover gate-fold features five looks from Joe Fresh and follows with a second cover featuring Karlie Kloss. A five-page feature article inside the magazine features outfits from the retailer's fall collection, photographed by fashion photographer Max Abadian.
"This type if multiplatform editorial integration on a cover is new for FASHION and signals to advertisers a new way of working with us," Jacqueline Loch, VP group publisher, women's brands, St. Joseph Media told MiC via an email interview.
 Consumers are able to pick up a copy of the publication at the retailer's Queen Street West flagship store; some 5,000 additional copies were printed for the issue.
In addition to the photo shoot, the brand has also developed on video content that it will share on social channels with a collective social audience of over 2.5 million, according to Loch.
This issue also marks the first time the publisher is unveiling its cover on Snapchat via @FashionCan. A 45-second behind-the-scenes video featuring content around the cover shoot will go live at Fashionmagazine.com and will also be on Instagram.
A contest on Instagram will also lead to a fall wardrobe win using the #FASHIONxJoeFresh
A final component to the integration are two FASHION-hosted in-store shopping events at Joe Fresh stores in Toronto and Vancouver.
Branded integration is a growing revenue stream for magazines as the medium's traditional business model suffers from the continued loss of advertising dollars.
According to GroupM's This Year, Next Year report magazines will continue to see 10% declines in media revenue over 2016 and 2017. More specifically the downtrend has seen spend falling from $668 million in 2015 to projected numbers of $601 million in 2016 $541 million in 2017.
FASHION Magazine has an unduplicated print and digital average issue audience of 1.4 million across Canada, according to Q1 numbers from Vividata. Its average issue audience for print is 1.1 million and its digital audience is 575,000.