Spotted! Wild Turkey takes tasters behind the scenes
The American bourbon brand is embarking on its largest Canadian push to date, targeting suburban whiskey drinkers with a touring mini version of its distillery.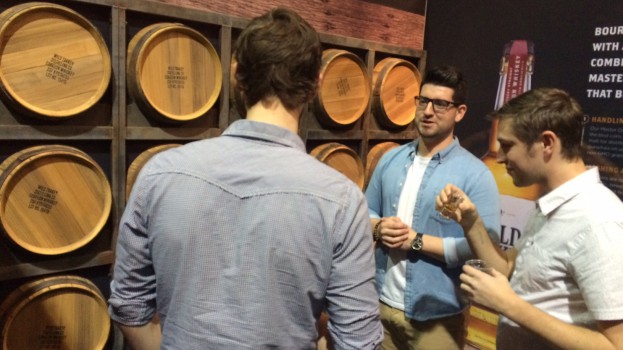 What's the best way to turn Canadians on to American bourbons? For Wild Turkey, taking them on a mini tour of its Kentucky distillery is a start.
The bourbon manufacturer is hitting the road across Canada with a number of trade show displays. While the displays appear to be a standard booth, behind a curtain lies a mock-up of the 148-year-old distillery. The mini distillery includes real elevated oak barrels and copper tanks. Tasters are taught about the distillation process and how bourbon differs from whiskey and scotch in the process before tasting a sample of Wild Turkey's 81 and 101 proof bourbons, poured straight from the barrels.
The mini distillery made its debut at the Rocky Mountain Wine and Food Festival in Calgary on Oct. 14 and 15. The tour is Wild Turkey's largest Canadian marketing push to date.
Zak Katz, executive director at Embr, which created the concept and secured the trade show spots, said Wild Turkey is trying to not only capture Canadians' interests, but expand on its demographic.
"We're trying to go beyond the typical male 25 to 39 whiskey drinker," Katz told MiC. "While a lot of alcohol would typically be marketed at smaller events that target urban professionals, instead we went with something to capture more of a suburban audience, and also try to welcome in more women, because female bourbon drinkers are not as uncommon as people think."
According to data provided by Katz, Wild Turkey's North American consumers are made up of 65% males and 35% females.
While Katz wouldn't talk figures, he said it was Wild Turkey's biggest investment in the Canadian market so far.
Because Wild Turkey has not made many concentrated marketing efforts in Canada to date, Katz said the company was starting with a "blank slate." Katz said the idea was to bring the distillery's imagery, which he said "is really symbolic to American bourbon culture," into Canada to make the experience more immersive.
By targeting large trade shows, Katz said, it increases the likelihood of drawing a more diverse crowd in terms of age and geography.
"These tend to attract a more suburban crowd — for example, when you do a Toronto show you get the entire 905 and more people from out of town, whereas when you do small, specialty events, typically you only get a local crowd."
The tour is being promoted through social media, with paid amplification through Twitter and Facebook's self-service platform. Embr has handled the social promotion for the campaigns, although Katz said there will likely be a more traditional media buy for Wild Turkey down the road.
The display will travel to the Edmonton Rocky Mountain Wine and Food Festival on November 4 and 5, and will appear in Toronto at the Gourmet Food and Wine Show November 17 to 20. Dates for Ottawa and Winnipeg are still TBD.