Agency of the Year 2016 winners revealed
Check out who took home the big prizes at this year's show.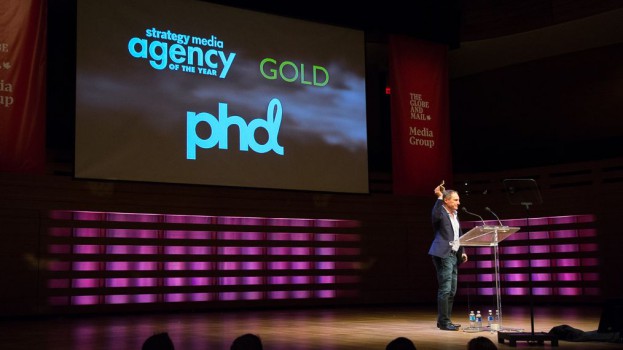 A dozen agencies were awarded Tuesday night at strategy's annual Agency of the Year Awards, which recognizes the industry's top players based on work from the previous year.
PHD was this year's Media Agency of the Year. OMD won Silver in that category and Starcom MediaVest Group took the Bronze.
For the first time, Cossette won AOY Gold, beating out back-to-back winner Leo Burnett, which took Silver, and Bronze winner John St. Cossette also won Campaign of the Year for its "Life Unpaused" campaign for the SickKids Foundation.
In the Digital Agency of the Year category, FCB came out on top, with Rethink taking Silver and Taxi winning Bronze.
In the PR Agency of the Year category, Media Profile won Gold, with Citizen Relations taking Silver and North Strategic winning bronze.
The inaugural Strategy Awards, which recognize the industry's top planners, were also awarded at the gala, held at Koerner Hall in Toronto. Leo Burnett took home the Grand Prix for its work with the Ontario Women's Directorate.
To win one of strategy's signature Agency of the Year airplanes, it's not enough to just have a handful of strong campaigns. The winners are selected by a panel of judges who demand work showing diversity across brands and categories.
The agencies were judged on their exceptional work, but these articles — covering the 12 agency winners — go beyond the campaigns to get at the strategy and agency culture from which that work was conceived. Read about the winners below.
AOY Gold: Cossette's startup strategy
AOY Silver: Leo Burnett plays the numbers game
AOY Bronze: John St. ignites its digital offering
DAOY Gold: FCB bets on transparency
DAOY Silver: Rethink, small and mighty
DAOY Bronze: Taxi's past is prologue
MAOY Gold: PHD's winning strategy
MAOY Silver: OMD plans for content
MAOY Bronze: Starcom's year of disruption
PRAOY Gold: Media Profile puts storytelling at the heart of PR
PRAOY Silver: Citizen's own-the-newsfeed M.O.
PRAOY Bronze: Influencers find true North
Photo (by Matt Forsythe): Fred Forster, CEO at Omnicom Media Group Canada and PHD Canada aceepting the award for Media Agency of the Year.