Now magazine adds 'Dine and Shop' package
The free weekly has chosen to diversify its revenue streams by adding e-commerce.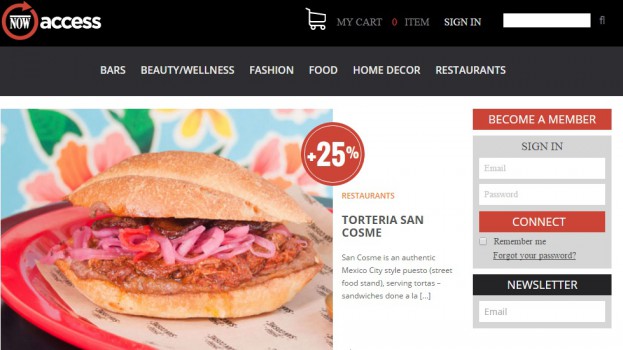 Toronto's Now magazine is the latest media player to dive into e-commerce.
The free weekly publication has partnered with Boutique Voir to open an online shop, Now Access (already live online), which provides cash back and rebates for local Toronto retailers and restaurants. Participating businesses include hot yoga chain Bikram Yoga, sex accessory shop Condom Shack and vegan junk food destination Doomie's. Those enrolled in the program can earn more back depending on what level of paid membership they select.
"We've positioned this as a customer loyalty program," Jason Maghanoy, director of sales, strategy and partnerships at Now told MiC. "It's a way of providing readers with added value, giving our advertisers a new way to reach out. We have a great curation process through things like our readers choice awards, so we're able to identify what businesses our readers would really value for a program like this."
Last week, Quebec media co Groupe V also paired with Boutique Voir to launch its own online shop, Boutique Noovo. That shop operates on a similar model and, according to Marc Giguère, VP of growth strategies, aims to help advertisers draw more visitors to bricks-and-mortar businesses while diversifying its revenue streams.
While Maghanoy would not give exact details on the private company's revenue, he said ad revenue had been "consistent." However, he went on to say that maintaining ad revenue, especially print, had been "a real challenge," which was part of why the company was looking to diversify revenue streams.
"People come to you for print advertising, but when they become less interested in it, we want to make sure that we still have something unique to offer them in the digital space," he said.
Other new revenue streams introduced by Now in recent years include its ticketing platform and sponsored live events.