MLS Cup closes record-breaking playoff season for TSN and RDS
Saturday night's game was watched by an average audience of 1.5 million viewers on the Bell Media channels.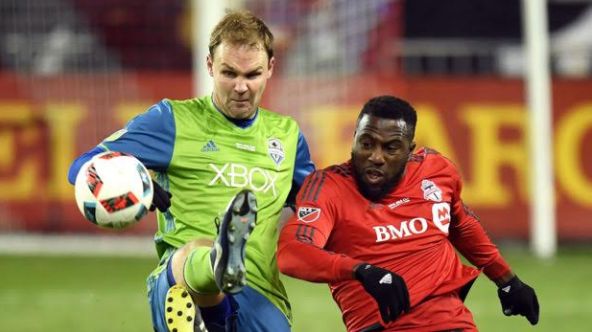 Saturday night's MLS Cup between Toronto FC and the Seattle Sounders closed out a record-breaking viewership run during the Audi 2016 MLS Playoffs on TSN and RDS.
TFC's penalty kick loss was watched by an average audience of 1.4 million viewers on TSN and 92,000 on RDS, according to Numeris numbers from Bell Media. That's a 10% increase over the previous MLS viewership record, which was set on Nov. 30 when TFC won the MLS Eastern Conference Championship and advanced to the MLS Cup.
Average audience levels across the two channels peaked at 11 p.m. ET at 2.7 million viewers as Sounders defender Román Torres sunk the penalty kick that won the game for Seattle.
Overall, 4.2 million Canadians watched the game at least in part.
According to the Numeris numbers from Bell Media, the MLS Cup 2016 was the most-watched program for the night in the GTA, delivering a 35% share.
TSN's official Instagram and Snapchat stories had 270,000 and 250,000 views respectively.