Criminal Minds takes the top: Numeris
The dramatic thriller brought in the most viewers of all single-night shows for the week of Feb. 27 to March 5.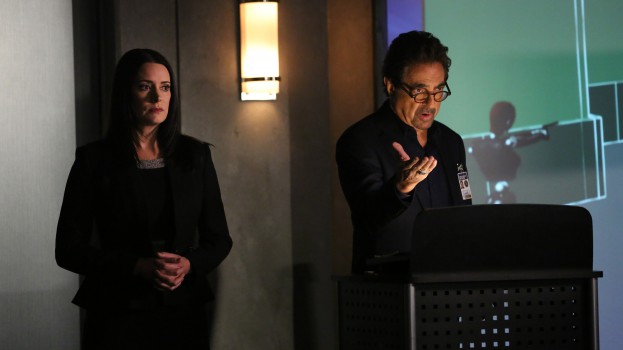 There's a new show on top this week for Numeris: Criminal Minds.
The dramatic thriller on CTV claimed the top spot in Canada with the highest average-minute audience (2+) of all daily shows, according to the Numeris report for the week of Feb. 27 to March 5, 2017. An average audience of 1.72 million Canadians tuned into the broadcast of the episode. It was followed by police drama Chicago P.D. with 1.58 million viewers and by mid-season newcomer Chicago Justice (1.54 million viewers).
The top five was rounded out by CTV reality competition series MasterChef Canada with 1.49 million viewers and NCIS: Los Angeles on Global with 1.47 million viewers.
The country's top five nightly shows were completely different from the previous week, perhaps helped out by the fact that frequent front runner The Big Bang Theory did not air a new episode during the week.
The top five also seemed to vary more than usual by region. In Montreal, while Criminal Minds came in second to Hockey Night in Canada, which brought in 95,000 viewers. Meanwhile, spots three through five were taken up by episodes of The Voice, which premiered its 12th season during the week. In the Toronto market, aside from Criminal Minds in the top spot, Global dominated the top five with episodes of Saturday Night Live, NCIS: Los Angeles, Chicago Justice and Chicago Med filling out the remainder of the top shows. It was a similar story in Calgary, where NCIS: Los Angeles took the top spot, followed by all four shows from the Chicago franchise.
Hockey played well in Edmonton as well in Vancouver/Victoria. In Edmonton, Hockey Night in Canada on CBC took the top spot (155,000 viewers), followed by a match-up of the Oilers vs. the St. Louis Blues on Sportsnet (147,000 viewers). Over in British Columbia, Hockey Night in Canada (broadcast on Sportsnet) also took the top spot with 163,000 viewers, tied with Sportsnet's Hometown Hockey.
The Francophone market, however, maintained its standings with La voix on TVA in the top spot at 2.44 million viewers. Once again, Unité 9, L'échappée, L'Heure Bleue and Les pays d'eh haut occupied the top five.
Here are the top-ranked daily measured shows in by market (AMA for all persons 2+), according to Numeris, for Feb. 13 to 19, 2017:
Canada:
1. Criminal Minds on CTV Wednesday at 9 p.m.: 1.72 million viewers.
2. Chicago P.D. on Global Wednesday at 9 p.m.: 1.58 million viewers
3. Chicago Justice on Global Wednesday at 10 p.m.: 1.54 million viewers
4. MasterChef Canada on CTV Thuesday at 9 p.m.: 1.49 million viewers
5. NCIS: Los Angeles on Global Sunday at 8 p.m.: 1.47 million viewers
Montreal (anglophone):
1. Hockey Night in Canada on CBC Saturday at 7:07 p.m.: 95,000 viewers
2. Criminal Minds on CTV Wednesday at 9 p.m.: 72,000 viewers
3. The Voice on CTV Monday at 8 p.m.: 68,000 viewers
4. The Voice on CTV Thursday at 8 p.m.: 60,000 viewers (tie)
4. The Voice Results Show on CTV Tuesday at 8 p.m.: 60,000 viewers (tie)
Quebec (francophone)
1. La voix on TVA Sunday at 7:30 p.m.: 2.44 million viewers
2. Unite 9 on SRC Tuesday at 9 p.m.: 1.75 million viewers
3. L'échappée on TVA Monday at 8 p.m.: 1.27 million viewers
4. L'heure bleue on TVA Wednesday at 9 p.m.: 1.25 million viewers
5. Les pays d'en haut on SRC Monday at 9 p.m.: 1.23 million viewers
Toronto/Hamilton:
1. Criminal Minds on CTV Wednesday at 9 p.m.: 447,000 viewers
2. Saturday Night Live on Global Saturday at 11:29 p.m.: 414,000 viewers
3. NCIS: Los Angeles on Global Sunday at 8 p.m.: 335,000 viewers
4. Chicago Justice on Global Wednesday at 10 p.m.: 333,000 viewers
5. Chicago Med on Global Thursday at 9 p.m.: 328,000 viewers
Edmonton:
1. Hockey Night in Canada on CBC Saturday at 7:59 p.m.: 155,000 viewers
2. Oilers vs. Blues on Sportsnet Tuesday at 6:08 p.m.: 147,000 viewers
3. NCIS: Los Angeles on Global Sunday at 9 p.m.: 101,000 viewers
4. The Voice on CTV Thursday at 9 p.m.: 100,000 viewers
5. The Voice on CTV Monday at 9 p.m.: 94,000 viewers
Calgary:
1. NCIS: Los Angeles on Sunday at 9 p.m.: 90,000 viewers
2. Chicago Med on Global Thursday at 10 p.m.: 79,000 viewers
3. Chicago Fire on Global Wednesday at 8 p.m.: 76,000 viewers
4. Chicago P.D. on Global Wednesday at 9 p.m.: 69,000 viewers
5. Chicago Justice on Global Sunday at 10 p.m.: 68,000 viewers
Vancouver/Victoria:
1. Hockey Night in Canada on Sportsnet Saturday at 6:59 p.m.: 163,000 viewers (tie)
1. Hometown Hockey on Sportsnet Sunday at 5:11 p.m.: 163,000 viewers (tie)
3. The Voice on CTV Monday at 8 p.m.: 152,000 viewers
4.  Murdoch Mysteries on CBC Monday at 8 p.m.: 144,000 viewers
5. The Voice on CTV Thursday at 8 p.m.: 142,000 viewers