Survivor holds at number one: Numeris
The reality show on Global brought in the most viewers of all single-night shows for the week of March 20 to 26, but TV preferences varied wildly by region.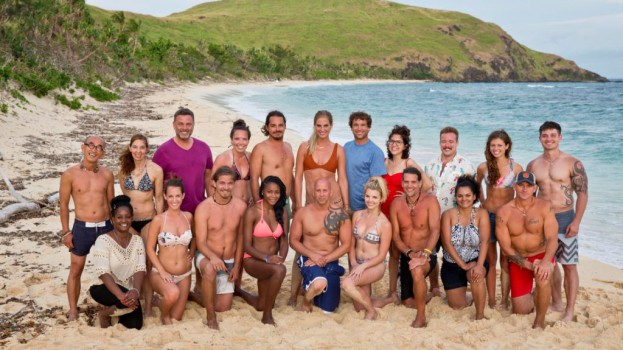 One wouldn't be mistaken for thinking that the most recent Numeris report, which covered the week of March 20 to 26, looked a little familiar. The top five shows for the highest average minute audience (2+) for daily programs across Canada remained almost entirely unchanged from last week.
Holding the top spot was Survivor (Global, Wednesdays at 8 p.m.), which captured an audience of two million people, just under the 2.05 million that it pulled in the week before. It was once again followed by Designated Survivor (CTV, Wednesdays at 10 p.m.), which pulled in 1.82 million viewers. Criminal Minds (CTV, Wednesdays at 9 p.m.)also remained in the third spot with 1.78 million viewers, and Grey's Anatomy (CTV, Thursdays at 7 p.m.) moved up one spot to number four with 1.7 million followers (although it maintained the same view count from last week). Coming in fifth was NCIS: Los Angeles (Global, Sunday nights at 8) with 1.43 million viewers.
Despite pulling in the most viewers in the country, Survivor didn't take the top spot in any of Numeris' key regional markets and only cracked the top five in Calgary, Toronto and Vancouver. However, the regional results showed a greater level of variety in the top shows compared to previous weeks.
Hockey content once again proved popular in the Alberta markets, with a match of the Calgary Flames versus the Washington Capitals taking the top spot in Calgary, followed by Hockey Night in Canada. Hockey Night also took the number two spot in Edmonton. It also took the number two spot in Toronto, with a match of the Leafs versus the New Jersey Devils taking the number five spot. In fact, Toronto's top 10 daily programs contained three different games for the Toronto Maple Leafs (two on Sportsnet, one on TSN).
In Vancouver, Murdoch Mysteries topped the list, quickly tailed by Masterchef Canada.
For the third week a row, The Voice was most well-received in Montreal, with the show's two weekly episodes occupying the third and fourth spots in the city. Its French-language equivalent, La Voix, also held onto the top spot in Quebec's Francophone market.
Here are the top-ranked daily measured shows by market (AMA for all persons 2+), according to Numeris, for March 20 to 26, 2017:
Canada
1. Survivor on Global Wednesday at 8 p.m.: 2 million viewers
2. Designated Survivor on CTV Wednesday at 9 p.m.: 1.82 million viewers
3. Criminal Minds on CTV Wednesday at 9 p.m.: 1.78 million viewers
4. Grey's Anatomy on CTV Thursday at 7 p.m.: 1.7 million viewers
5. NCIS: Los Angeles on Global Sunday at 8:01 p.m.: 1.43 million viewers
Montreal (anglophone)
1. Criminal Minds on CTV Wednesday at 9 p.m.: 87,000 viewers
2. Designated Survivor on CTV Wednesday at 10 p.m.: 83,000 viewers
3. The Voice Results Show on CTV Tuesday at 8 p.m.: 66,000 viewers
4. The Voice on CTV Monday at 8 p.m.: 65,000 viewers
5. Blindspot on CTV Wednesday at 8 p.m.: 60,000 viewers
Quebec (francophone)
1. La Voix on TVA Sunday at 7:30 p.m.: 2.37 million viewers
2. Unite 9 on SRC Tuesday at 9 p.m.: 1.97 million viewers
3. Les pays d'en haut on SRC Monday at 9 p.m.: 1.34 million viewers
4. L'échappée on TVA Monday at 8 p.m.: 1.27 million viewers
5. L'heure bleue on TVA Wednesday at 9 p.m.: 1.19 million viewers
Toronto/Hamilton
1. Designated Survivor on CTV Wednesday at 10 p.m.: 470,000 viewers
2. Hockey Night in Canada on CBC Saturday at 7:08 p.m.: 470,000 viewers
3. Survivor on Global Wednesday at 8 p.m.: 451,000 viewers
4. Criminal Minds on CTV Wednesday at 9 p.m.: 448,000 viewers
5. Leafs vs. Devils on Sportsnet Thursday at 7:39 p.m.: 417,000 viewers
Edmonton
1. NCIS: Los Angeles on Global Sunday at 9 p.m.: 110,000 viewers
2. Hockey Night in Canada on CBC Saturday at 8:03 p.m.: 98,000 viewers
3. Heartland on CBC Sunday at 7 p.m.: 92,000 viewers
4. Masterchef Canada on CTV Thursday at 8 p.m.: 89,000 viewers
5. The Big Bang Theory on CTV Thursday at 9 p.m.: 84,000 viewers
Calgary
1. Flames vs. Capitals on Sportsnet Tuesday at 5:09 p.m.: 84,000 viewers
2. Hockey Night in Canada on City Saturday at 5:08 p.m.: 79,000 viewers
3. Survivor on Global Wednesday at 9 p.m.: 77,000 viewers
4. Chicago PD on Global Wednesday at 8 p.m.: 76,000 viewers
5. Chicago Fire on Global Tuesday at 7 p.m.: 71,000 viewers
Vancouver/Victoria
1. Murdoch Mysteries on CBC Monday at 8 p.m.: 181,000 viewers
2. Masterchef Canada on CTV Thursday at 9 p.m.: 169,000 viewers
3. Survivor on Global Wednesday at 8 p.m.: 168,000 viewers
4. NCIS: Los Angeles on Global Sunday at 8 p.m.: 154,000 viewers
5. Criminal Minds on CTV Wednesday at 9 p.m.: 151,000 viewers