Big Bang is back on top: Numeris
The comedy on CTV brought in the most viewers of all single-night shows for the week of March 27 to April 2 after three weeks off the schedule.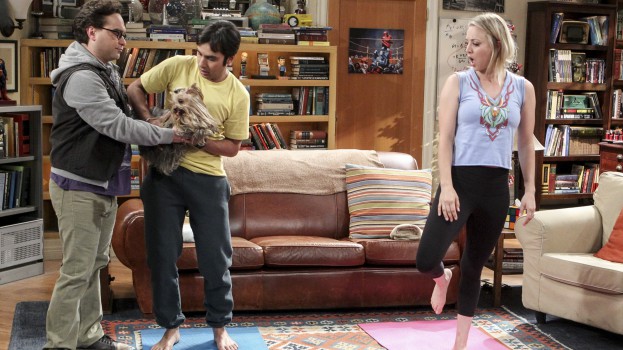 After three weeks without a new episode, The Big Bang Theory returned to the airwaves on March 30 in a triumphant fashion, pulling in the highest average minute audience (2+) for daily programs across Canada. That's according to the most recent Numeris report, which covered the week of March 27 to April 2.
The same report found that Big Bang, which airs Thursday nights on CTV, beat out the next-most popular program, Survivor, by more than one million viewers.
Although Survivor was knocked down to the number two spot after two weeks on top, its viewership increased slightly over last week, bringing in 2.2 million viewers (up from two million last week).
The reality competition series was followed by Global's drama NCIS with 2.01 million viewers. It was immediately followed by Bull (which also follows NCIS on the Tuesday night schedule) with 1.86 million viewers.
Last week's number two program, Designated Survivor, moved down to the fifth place spot nationally, although it pulled in the same amount of viewers as it did last week (1.82 million viewers).
In regional reports, Big Bang was number one in every English speaking market, and most markets saw an overall increase in viewership among the top programs from last week.
Hockey content also played well across the country's various markets, with Hockey Night in Canada cracking the top five in Montreal, Toronto/Hamilton and Edmonton (both the CBC and the Sportsnet broadcast), and Sportsnet's Wednesday night hockey coverage making the top five in Calgary.
That interest is only expected to increase in the coming weeks: with five Canadian teams in the playoffs, Rogers is anticipating more viewers from the Canadian side and is cutting two minutes of commercial time from the games' intermission breaks.
While the top three series in Quebec's Francophone market (La voix, Unité 9 and Les Pays d'en haut) remained unchanged, SRC's Tout le monde en… and TVA's LOL:-) broke into the top shows, pulling in 1.11 million and 1.1 million viewers each.
Here are the top-ranked daily measured shows by market (AMA for all persons 2+), according to Numeris, for March 27 to April 2, 2017:
Canada
1. The Big Bang Theory on CTV Thursday at 8 p.m.: 3.35 million viewers
2. Survivor on Global Wednesday at 8 p.m.: 2.2 million viewers
3. NCIS on Global Tuesday at 8 p.m.: 2.01 million viewers
4. Bull on Global Tuesday at 9 p.m.: 1.86 million viewers
5. Designated Survivor on CTV Wednesday at 9 p.m.: 1.82 million viewers
Montreal (anglophone)
1. The Big Bang Theory on CTV Thursday at 8 p.m.: 115,000 viewers
2. Designated Survivor on CTV Wednesday at 10 p.m.: 83,000 viewers
3. Hockey Night in Canada on Saturday at 7:07 p.m.: 79,000 viewers
4. Criminal Minds on CTV Wednesday at 9 p.m.: 76,000 viewers
5. The Voice on CTV Monday at 8 p.m.: 67,000 viewers
Quebec (francophone)
1. La Voix on TVA Sunday at 7:30 p.m.: 2.17 million viewers
2. Unite 9 on SRC Tuesday at 9 p.m.: 1.94 million viewers
3. L'échappée on TVA Monday at 8 p.m.: 1.31 million viewers
4. Tout le mount en… on SRC Sunday at 8 p.m.: 1.11 million viewers
5. LOL:-) on TVA Sunday at 7 p.m.: 1.1 million viewers
Toronto/Hamilton
1. The Big Bang Theory on CTV Thursday at 8 p.m.: 732,000 viewers
2. Hockey Night in Canada on CBC Saturday at 7:07 p.m.: 554,000 viewers
3. Survivor on Global Wednesday at 8 p.m.: 478,000 viewers
4. Criminal Minds on CTV Wednesday at 9 p.m.: 472,000 viewers
5. Hawaii Five-O on Global Friday at 9 p.m.: 467,000 viewers
Edmonton
1. The Big Bang Theory on CTV Thursday at 9 p.m.: 179,000 viewers
2. Hockey Night in Canada on CBC Saturday at 8 p.m.: 124,000 viewers
3. Hockey Night in Canada on Sportsnet Saturday at 8:02 p.m.: 117,000 viewers
4. Survivor on Global Wednesday at 9 p.m.: 112,000 viewers
5. Bull on Global Tuesday at 10 p.m.: 101,000 viewers
Calgary
1. The Big Bang Theory on CTV Thursday at 9 p.m.: 149,000 viewers
2. NCIS on Global Tuesday at 9 p.m.: 145,000 viewers
3. NHL Hockey on Sportsnet Wednesday at 7:12 p.m.: 142,000 viewers
4. Bull on Global Tuesday at 10 p.m.: 95,000 viewers
5. MacGyver on Global Friday at 9 p.m.: 94,000 viewers
Vancouver/Victoria
1. The Big Bang Theory on CTV Thursday at 10 p.m.: 204,000 viewers
2. NCIS on Global Tuesday at 8 p.m.: 180,000 viewers
3. Bull on Global Tursday at 9 p.m.: 164,000 viewers
4. NCIS: New Orleans on Global Tuesday at 10 p.m.: 159,000 viewers
5. Survivor on Global Wednesday at 8 p.m.: 142,000 viewers