The Big Bang Theory finale brings big numbers: Numeris
The season 10 finale drew in an average audience 3.7 million viewers, nearly doubling the audience of the next-most watched program, Survivor.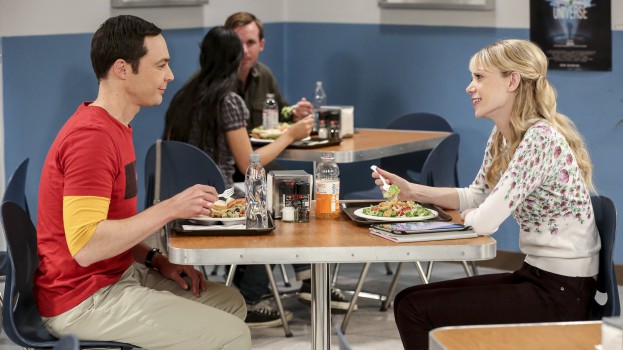 For the third week in a row, The Big Bang Theory on CTV landed at the top of the Numeris charts with the highest average-minute audience (2+) of all single-night programs for the week.
But this report, which covered May 8 to 15, will be the last for some time to feature a new broadcast of Big Bang — the long-running comedy capped off its 10th season on May 11 (with a cliffhanger ending) and won't return to the airwaves with new episodes until September.
Not only did Big Bang pull in an average audience of 3.7 million viewers for the finale, it was also up significantly from its audience last week of 3.13 million. It also nearly doubled the audience of the next-most watched program, Survivor, which snagged an average audience of 1.96 million viewers.
Survivor was followed by another Global hit, NCIS, which pulled in 1.94 million viewers. The list was rounded out by two CTV shows, including a second Thursday night broadcast of The Big Bang Theory (1.83 million viewers) and the long-running Grey's Anatomy (1.66 million viewers).

The power of a finale worked in Big Bang's favour, with the series sweeping every Anglophone market.
Most of the regional markets saw the usual suspects land in the top five, including the NCIS franchise, Designated Survivor and Criminal Minds. Coverage of British Columbia's provincial election on Global and CBC both landed in the top five, while the finale of City's Scorpion saw a rare top-five finish in the Calgary market. Despite massive social media buzz around Melissa McCarthy's motorized podium ride through the streets of New York, Toronto/Hamilton was the only market in which Saturday Night Live cracked the top five.
In Quebec, with the popular competition series La voix concluding on May 7, Gala artis 2017 on TVA took the top spot with 1.76 million viewers (although a special bonus broadcast of La voix still pulled in 909,000 viewers, landing in the number four spot).

Here are the top-ranked daily measured shows by market (AMA for all persons 2+), according to Numeris, for May 8 to 15, 2017:
Canada
1. The Big Bang Theory on CTV Thursday at 8 p.m.: 3.7 million viewers
2. Survivor on Global Wednesday at 8 p.m.: 1.96 million viewers
3. NCIS on Global Tuesday at 8 p.m.: 1.94 million viewers
4. The Big Bang Theory on CTV Thursday at 8 p.m.: 1.83 million viewers
5. Grey's Anatomy on CTV Thursday at 7 p.m.: 1.66 million viewers
Montreal (anglophone)
1. The Big Bang Theory on CTV Thursday at 8 p.m.: 127,000 viewers
2. The Big Bang Theory on CTV Thursday at 8:31 p.m.: 83,000 viewers
3. Designated Survivor on CTV Wednesday at 10 p.m.: 73,000 viewers
4. Criminal Minds on CTV Wednesday at 9 p.m.: 60,000 viewers
5. Marvel's Agents of SHIELD on CTV Wednesday at 8 p.m.: 59,000 viewers
Quebec (francophone)
1. Gala artis on TVA Sunday at 8:07 p.m.: 1.76 million viewers
2. Le tapis rouge on TVA Sunday at 7 p.m.: 1.35 million viewers
3. La poule aux oeufs d'or on TVA Wednesday at 7:30 p.m.: 919,000 viewers
4. La voix on TVA Monday at 7:30 p.m.: 909,000 viewers
5. Refuge Animal on TVA Monday at 7 p.m.: 806,000 viewers
Toronto/Hamilton
1. The Big Bang Theory on CTV Thursday at 8 p.m.: 805,000 viewers
1. Designated Survivor on CTV Wednesday at 10 p.m.: 443,000 viewers
3. Saturday Night Live on Global Saturday at 11:29 p.m.: 432,000 viewers
4. Survivor on Global Wednesday at 8 p.m.: 425,000 viewers
5. NCIS on Global Tuesday at 8 p.m.: 396,000 viewers
Edmonton
1. The Big Bang Theory on CTV Thursday at 9 p.m.: 193,000 viewers
2. The Big Bang Theory on CTV Thursday at 9:31 p.m.: 120,000 viewers
3. NCIS on Global Tuesday at 9 p.m.: 113,000 viewers
4. Hawaii Five-O on Global Friday at 10 p.m.: 108,000 viewers
5. NCIS: New Orleans on Global Tuesday at 8 p.m.: 97,000 viewers
Calgary
1. The Big Bang Theory on CTV Thursday at 9 p.m.: 167,000 viewers
2. NCIS on Global Tuesday at 9 p.m.: 133,000 viewers
3. NCIS: New Orleans on Global Tuesday at 8 p.m.: 96,000 viewers
4. The Big Bang Theory on CTV Thursday at 9:31 p.m.: 91,000 viewers
5. Scorpion on City Monday at 8 p.m.: 89,000 viewers
Vancouver/Victoria
1. The Big Bang Theory on CTV Thursday at 8 p.m.: 197,000 viewers
2. Survivor on Global Wednesday at 8 p.m.: 168,000 viewers
3. Decision BC 2017 Election Special on Global Tuesday at 8 p.m.: 147,000 viewers
4. British Columbia Votes on CBC Tuesday at 7 p.m.139,000 viewers
5. The Amazing Race on CTV Thursday at 10 p.m.: 163,000 viewers