Canadian Broadcast Sales names new president
The longtime Corus SVP Gerry MacKrell will join the radio sales company in September.
Canadian Broadcast Sales has named Gerry MacKrell its new president.
MacKrell spent over 20 years at Corus Entertainment, working most recently as SVP of sales. He has been an active member of the CBS board of directors.
MacKrell will now lead the radio sales company that currently represents 43 broadcasters and more than 400 radio stations in 223 markets, reaching 80% of all Canadians, according to a release.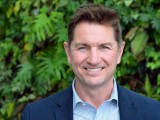 The organization is jointly owned by Corus Entertainment and Rogers Media with offices in Vancouver, Calgary, Edmonton, Winnipeg, Toronto, Montreal and Halifax. It offers media planning, integrated radio promotions, media and market research and content development.
MacKrell takes over the president position from CBS founder Patrick Grierson, who announced his intention to retire from the company after 23 years at the helm last December.