Big Bang stays on top: Numeris
The MLS cup was no match for the Big Bang gang.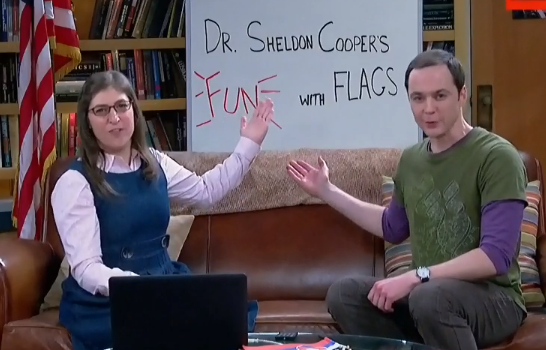 The MLS cup may have brought the ratings for TSN, but it was no match for The Big Bang Theory for the highest AMA. CTV's comedy series easily swept the week of Dec. 4 to 10, pulling in just over three million viewers.
It was followed by fall favourites The Good Doctor, Young Sheldon and Survivor, which all posted slight drops in their audiences over the previous week. The top five was rounded out by CTV's Designated Survivor (which up until this most recent week, has been absent from Numeris' top-five lists so far this season). This was the action-drama's first crack at the top-five all season.
The MLS cup may have only placed 13th in the country, but it managed to take the top spot in Toronto. Most other Anglophone markets were topped by Sheldon and the gang from Big Bang, although The Good Doctor once again took the top spot in Vancouver.
In the Quebec Francophone market, an entirely new top-five was ushered in, with SRC taking most of the spots (including Gala Les Olivier 2017 in the top spot).
Canada
1. The Big Bang Theory on CTV Thursday at 8 p.m.: 3.05 million viewers
2. The Good Doctor on CTV Monday at 10:01 p.m.: 2.74 million viewers
3. Young Sheldon on CTV Thursday at 8:31 p.m.: 2.33 million viewers
4. Survivor on Global Wednesday at 8 p.m.: 2.18 million viewers
5. Designated Survivor on CTV Wednesday at 10 p.m.: 1.44 million viewers
Montreal (Anglophone)
1. The Big Bang Theory on CTV Thursday at 8 p.m.: 125,000 viewers
2. Young Sheldon on CTV Thursday at 8:30 p.m.: 99,000 viewers
3. The Good Doctor on CTV Monday at 10:01 p.m.: 96,000 viewers
4. Law and Order: SVU on CTV Wednesday at 9 p.m.: 62,000 viewers
5. Blindspot on CTV Friday at 8 p.m.: 61,000 viewers
Quebec (Francophone)
1. Gala Les Olivier 2017 on SRC Sunday at 8 p.m.: 1.5 million viewers
2. Les enfants de la télé on SRC Wednesday at 8 p.m.: 1.13 million viewers
3. La poule aux oeufs d'or on TVA Wendesday at 7:30 p.m.: 993,000 viewers
4. Bye on SRC Tuesday at 9 p.m.: 966,000 viewers
5. Les pêcheurs on SRC Wednesday at 9 p.m.: 925,000 viewers
Toronto/Hamilton
1. MLS Cup on TSN Saturday at 4:19 p.m.: 743,000 viewers
2. The Big Bang Theory on CTV Thursday at 8 p.m.: 718,000 viewers
3. The Good Doctor on CTV Monday at 10:01 p.m.: 647,000 viewers
4. Young Sheldon on CTV Thursday at 8:30 p.m.: 552,000 viewers
5. Hockey Night in Canada on CBC Saturday at 7:16 p.m.: 544,000 viewers
Edmonton
1. The Big Bang Theory on Thursday at 9 p.m.: 165,000 viewers
2. Hometown Hockey on Sportsnet Sunday at 5:15 p.m.: 129,000 viewers
3. Hockey Night in Canada on CBC Saturday at 7:59 p.m.: 127,000 viewers
4. Young Sheldon on CTV Thursday at 9:31 p.m.: 122,000 viewers
5. The Good Doctor on CTV Monday at 8:01 p.m.: 79,000 viewers
Calgary
1. The Big Bang Theory on CTV Thursday at 9 p.m.: 179,000 viewers
2. Young Sheldon on CTV Thursday at 8:31 p.m.: 133,000 viewers
3. The Good Doctor on CTV Monday at 8:01 p.m.: 125,000 viewers
4. Flames vs. Leafs on Sportsnet Wednesday at 5:45 p.m.: 110,000 views
5. Hockey  Night in Canada on CBC Saturday at 8 p.m.: 86,000 viewers
Vancouver/Victoria
1. The Good Doctor on Monday at 10:01 p.m.: 178,000 viewers
2. Survivor on Global Wednesday at 8 p.m.: 170,000 viewers
3. The Big Bang Theory on CTV Thursday at 8 p.m.: 166,000 viewers
4. Hockey Night in Canada on CBC Saturday at 7 p.m.: 152,000 viewers
5. Law and Order: SVU on CTV Wednesday at 9 p.m.: 147,000 viewers