Spotted! Life's a beach
Sunwing drives a sunny message on Blue Monday in Toronto and Montreal.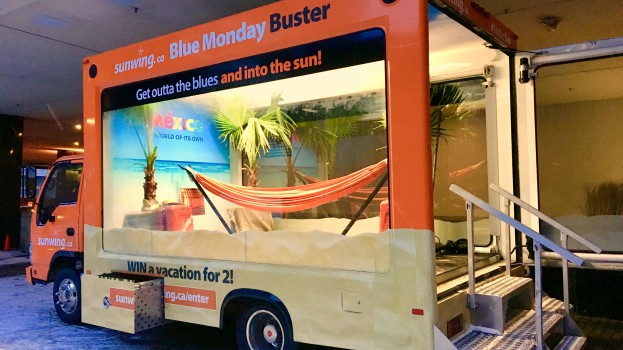 The weather is a little up and down these days, but few in Toronto or Montreal would expect beach weather in January.
Yet that's exactly what Sunwing is going for. Today, the travel company is in the two cities with a "mobile beach" set up on a bus featuring real sand, a hammock, music and beach accessories.
The activation is an effort to entice people to book a vacation in order to beat the winter blues.
The event was timed with Blue Monday (a late-January Monday often said to be the most depressing day of the year). Jacqueline Grossman, senior director of marketing, said Sunwing has campaigned around Blue Monday for several years, citing the insight that many people like having something like a vacation to look forward to during the winter.
Experiential is a growing area of spend for Sunwing, particularly since its successful Black Friday pop-up in Toronto. "We got a lot of great feedback and positive interaction from Black Friday, and we had lineups for pretty much the entire day,"  Grossman told MiC. "Opportunities like these are a great way to humanize the brand." Looking forward to the rest of 2018, Grossman said there are plans to keep bringing the experiences.
In Toronto, the bus is touring the downtown core close to the shore of Lake Ontario. Because Montreal is "more of an underground city," Grossman said, there will be a stationary activation inside the Place Ville-Marie shopping centre in addition to the outdoor touring bus.
In both cities, passersby have the chance to grab travel vouchers, which Sunwing is providing as part of an incentive to book travel.
Leading up to the event was an influencer campaign, and at the end of the day, a print, outdoor and social campaign will launch to promote Sunwing's flights.
Sunwing worked with a variety of different agencies for the activation and the campaign including:
VMC — media buying
Gabor Group — experiential for Toronto
Atmosphere — experiential for Montreal
Punch Canada — influencer relations for English Canada
Pro-Spec — influencer relations for Quebec