Facebook's 'breaking news' label lands in Canada
U.S. tests show lifts in shares and comments, which the platform is prioritizing for content seeking a place in users' News Feeds.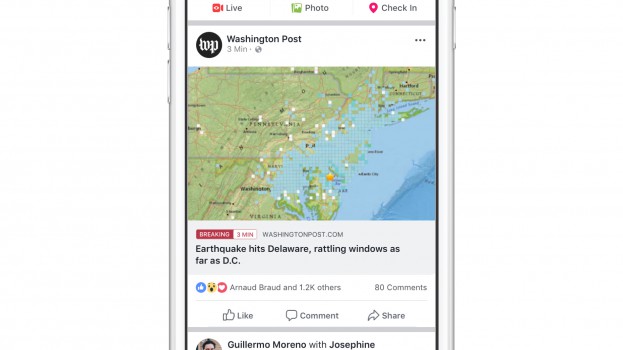 Global News, CityNews, CBC and Journal de Montreal will test Facebook's new breaking news feature in Canada, a tool that's been tested in the U.S. over the last year.
The trial allows the publishers to add a breaking news label to mobile and web links, Facebook Live videos and Instant Articles. The tag can be left on the post for up to six hours.
Publishers will see engagement data from these stories broken down on their Insights dashboard. The American tests yielded single-digit-percentile lifts in click-through rates (4%), comments (4%), shares (11%) and likes (7%) – measures that Facebook is giving increased priority to when deciding which stories to place in users' news feeds.
However, Facebook has installed measures to ensure publishers cannot over-use the label for the sake of driving views and click-throughs. They will be limited to one use of the label per day, with a supply of five additional uses available every month. There will also be a mechanism for readers to respond to the tag, flagging those stories they don't feel deserve it.
The changes come not only as Facebook contends with increased scrutiny for how it deals with fake news on its service, but contends with news media that fear seeing their views from the service dwindle as Facebook changes its News Feed policies.
In January, it announced it would deprioritize content from Pages (which many brands and media companies use to house content on the service) in favour of content that had been organically liked and commented-on. And last week, Facebook ended a test in six countries to split News Feeds in two, creating one channel for content from friends and family and another for that of media companies.
In a public posting on Jan. 19, CEO Mark Zuckerberg said the company is seeking "a major change to encourage meaningful social interactions with friends and family over passive consumption. As a result, you'll see less public content, including news, video, and posts from brands. After this change, we expect news to make up roughly 4% of News Feed – down from roughly 5% today."