PyeongChang takes the week: Numeris
English Canada made the Winter Olympics the ratings leader, especially the Closing Ceremonies.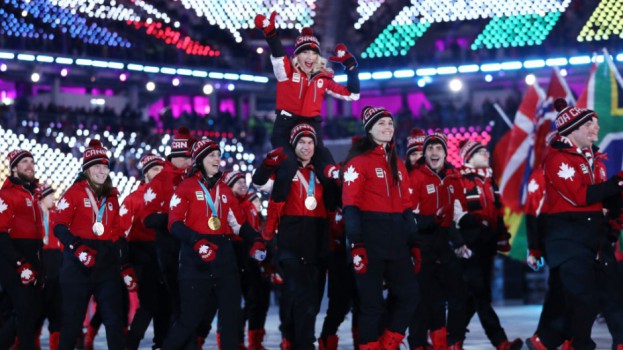 CBC pulled in the highest average audiences for the week of Feb. 19 to 25 as it wrapped up its coverage of the PyeongChang 2018 Winter Olympic Games. Nationally, four of the top-five single-night programs for the week were Games-related coverage, with CBC's encore coverage of the closing ceremony coming in first (1.67 million viewers), while its encore presentation of the pre-closinng ceremony took fourth (1.18 million viewers at 6 p.m.).
Primetime coverage on Saturday ranked second at 1.62 million viewers, while the late-primetime coverage early on Saturday (midnight to 2 a.m.) took in 1.21 million viewers.
Rounding out the top-five was a single non-Olympic broadcast, Sportsnet's showing of Hockey Night in Canada on Saturday. The games took in 1.17 million viewers.
Across Canada, with regular favourites like The Big Bang Theory, The Good Doctor and NCIS not airing regular episodes, it seemed the only programs that could hold a candle to PyeongChang were hockey games, with programs like Hometown Hockey, Hockey Night in Canada and games on Sportsnet and CBC making waves in most markets.
Francophone viewers, however, seemed to have not engaged with the Games to the same extent, with TVA's home-grown shows taking all top-five slots, led by La Voix on Sunday with 2.03 million viewers.
Canada
1. PyeongChang 2018 Closing Ceremony Encore on CBC Sunday at 7 p.m.: 1.67 million viewers
2. PyeongChang 2018 Primetime on CBC Saturday at 6:30 p.m.: 1.62 million viewers
3. PyeongChang 2018 Late Primetime on CBC Saturday at 12 a.m.: 1.21 million viewers
4. PyeongChang 2018 Pre-Closing Ceremony Encore on CBC Sunday at 6 p.m.: 1.18 million viewers
5. Hockey Night in Canada on Sportsnet Saturday at 7:15 p.m.: 1.17 million viewers
Montreal (Anglophone)
1. PyeongChang 2018 Closing Ceremony Encore on CBC Sunday at 7 p.m.: 60,000 viewers
2. The Big Bang Theory on CTV Thursday at 8 p.m.: 49,000 viewers
3T. Hockey Night in Canada on City Saturday at 7:15 p.m.: 47,000 viewers
3T. PyeongChang 2018 Pre-Closing Ceremony Encore on CBC Sunday at 6 p.m.: 47,000 viewers
5. PyeongChang 2018 Primetime on CBC Saturday at 6:30 p.m.: 45,000 viewers
Quebec (Francophone)
1. La Voix on TVA Sunday at 7 p.m.: 2.03 million viewers
2. Fugueuse on TVA Monday at 9 p.m.: 1.78 million viewers
3. L'échappée on TVA Monday at 8 p.m.: 1.36 million viewers
4. Conversation secrète on TVA Sunday at 9:15 p.m.: 1.34 million viewers
5. L'heure bleue on TVA Tueday at 9 p.m.: 1.32 million viewers
Toronto/Hamilton
1. PyeongChang 2018 Closing Ceremony Encore on CBC Sunday at 7 p.m.: 457,000 viewers
2. PyeongChang 2018 Primetime on CBC Saturday at 6:30 p.m.: 362,000 viewers
3. Leafs vs. Panthers on Sportsnet Tuesday at 7:10 p.m.: 356,000 viewers
4. Hockey Night in Canada on Sportsnet Saturday at 7:15 p.m.: 354,000 viewers
5. Leafs vs. Islanders on TSN Thursday at 7 p.m.: 283,000 viewers
Edmonton
1. Hometown Hockey on Sportsnet Sunday at 6:10 p.m.: 107,000 viewers
2. Oilers vs. Bruins on Sportsnet Tuesday at 7;11 p.m.: 101,000 viewers
3. PyeongChang 2018 Late Primetime on CBC Saturday at 10 p.m.: 76,000 viewers
4. PyeongChang 2018 Primetime on CBC Saturday at 4:30 p.m.: 74,000 viewers
5. Hockey Night in Canada on Sportsnet Saturday at 8:10 p.m.: 73,000 viewers
Calgary
1. PyeongChang 2018 Late Primetime on CBC Saturday at 10 p.m.: 115,000 viewers
2. PyeongChang 2018 Primetime on CBC Saturday at 4:30 p.m.: 87,000 viewers
3T. PyeongChang 2018 Closing Ceremony Encore on CBC Sunday at 7 p.m.: 65,000 viewers
3T. PyeongChang 2018 Pre-Closing Ceremony Encore on CBC Sunday at 6 p.m.: 65,000 viewers
5. Global News at 6: Weekend Edition on Global Sunday at 5:59 p.m.: 56,000 viewers
Vancouver/Victoria
1. PyeongChang 2019 Late Primetime on CBC Saturday at 9 p.m.: 217,000 viewers
2. PyeongChang 2019 Closing Ceremony Encore on CBC Sunday at 7 p.m.: 189,000 viewers
3. PyeongChang 2019 Primetime on CBC Sunday at 3:30 p.m.: 178,000 viewers
4. Global News at 6: Weekend Edition on Global Saturday at 5:59 p.m.: 167,000 viewers
5. Global News at 6: Weekend Edition on Global Sunday at 5:59 p.m.: 161,000 viewers