People Moves: Noise Digital, M&K Media and Sportsnet
Noise and M&K are staffing up their campaign and planning staffs, while Sportsnet is introducing some new voices for the Jays season.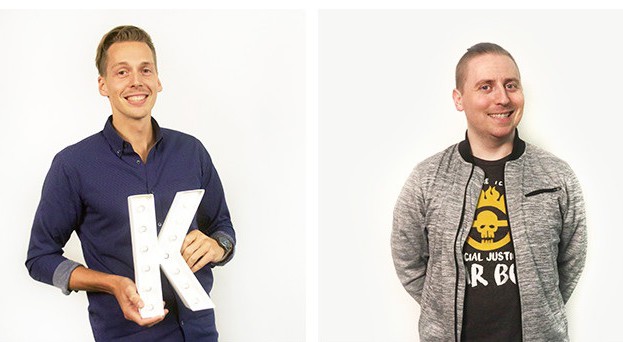 New planners join Noise Digital
Kevin Joubin (pictured left) has moved from PHD (New Zealand) to Noise Digital, where he will work as a digital campaign manager. Joubin has studied and worked in various global markets in the media and marketing industry and holds a master of science in digital marketing and e-business. During his three years at PHD, he worked across brands in the automotive, retail, airline and travel sectors. Last year, he was selected as a finalist in the Yahoo 2017 Digital Star program running across New Zealand and Australia.
Mike Burnside (right) has also joined Noise Digital as an SEM specialist. He graduated from BCIT with a journalism degree in 2005. As he developed his career in various global markets, he began to learn web development, computer programming and advanced mathematics. In 2014 he began working as a web developer, specializing in search engine marketing, social media marketing and reputation management. He will now bring those skills to Noise Digital, working with clients to optimize campaigns from a search and digital perspective.
M&K Media hires two
Two new recent graduates have begun their media careers with M&K Media. Sarah Thibeau and Ryan Hulbert have joined the shop as media planning assistants. Thibeau's academic background is in advertising and marketing communications, which she majored in at Humber College. Her responsibilities will centre around developing M&K's corporate social media content while assisting in media planning. Hulbert recently graduated from Western University with a BA in media, information and technology. He has additional experience with broadcast buying and Google SEM campaigns.
A new voice for the Jays on Sportsnet
Ben Wagner, the former announcer for the Buffalo Bisons, has become the new radio voice for the Jays on Sportsnet Radio. Also stepping into the radio booth are veteran broadcasters Dan Shulman and Mike Wilner. Shulman will take part in a collection of regular season game broadcasts and host a new weekly podcast, A Swing and a Belt with Dan Shulman (debuting April 5), while Wilner will host Blue Jays Talk throughout the season.
For Wagner, the move is his Major League debut after 11 seasons as the voice of the Jays' Triple-A affiliate. His first broadcast is today at the Jays' season opener.