Hudson's Bay, CTV take top spots: Media Monitors
While financial services dominated Toronto's top category for another week, the auto sector was #1 in Montreal.
Hudson's Bay was the top radio ad buyer in the Toronto market from May 7 to 13, according to the latest Media Monitors report.
The retailer, which rose from #12, purchased 806 ad spots last week. Hyundai entered the list at #2 with 700 spots.
New to the top 10 list was BMO Bank of Montreal, which came in at #3 (up from #58 last week) and TD Insurance at #4. Nordstrom Rack rounded out the #5 spot, dropping from #3 last week.
The banks, credit unions, mortgages and financial services category was #1 for the second week, with 2,164 spots purchased.
CTV remained the top radio ad buyer in the Montreal market with 406 ad spots, followed by Bell internet, phone and TV services, which held onto the #2 spot.
Both Shoppers Drug Mart (#3) and Nissan (#5) joined the top 10 this week while Club Piscine Super Fitness maintained its #4 spot.
Cars and truck dealer associations took Montreal's top category with a play count of 721.
Toronto, by brand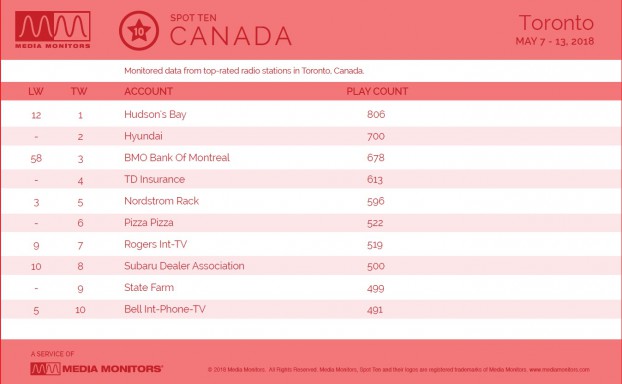 Toronto, by category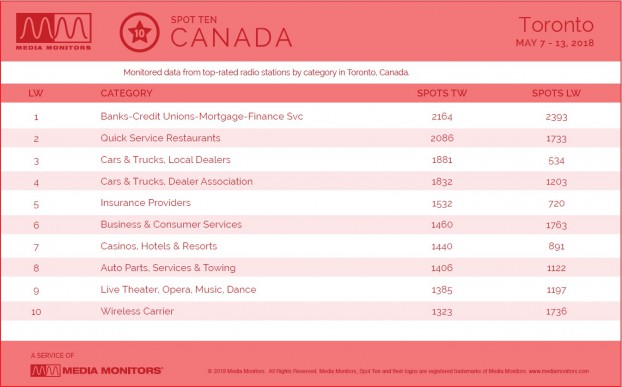 Montreal, by brand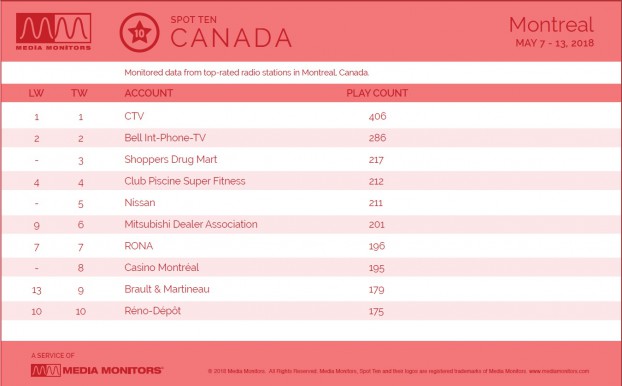 Montreal, by category