Rogers, CTV hit the top: Media Monitors
QSRs and cable TV were the most powerful buying categories for the week.
Rogers was the top radio advertising buyer in Toronto for the week of May 28 to June 3, according to the Media Monitors charts.
The telco purchased 1,019 spots, climbing two spots to take the top position. It was followed by Lotto Max (up from #5) and the Acura Dealer Association (down from #2). Rounding out Toronto's top five were HSBC, which stayed put in the #4 spot, and Rogers Internet, which made a big jump from #35.
Also new to Toronto's top 10 radio buyer list was TD Insurance at #6.
As for category, QSRs collectively had the most buying power, with 2,572 spots (up from 1,925) in total
In Montreal, CTV continued its reign as the top radio buyer. Just below, Mazda climbed a single spot to #2 and Hydro-Québec climbed two spots to #3. Casino Montreal landed in the #4 spot (up from #10) while the Mitsubishi Dealer Association rounded out the top five (up from #6).
Also new to the city's top 10 was the Ford Dealer Association at #6.
CTV's buy helped to push television and cable TV to the top spot for categories, although its number of spots decreased from the previous week (526 down from 583).
Toronto, by brand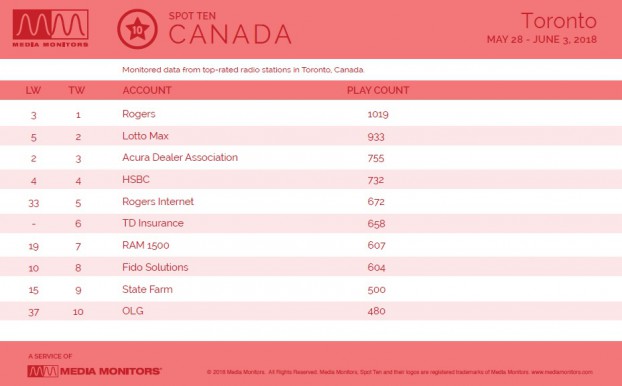 Toronto, by category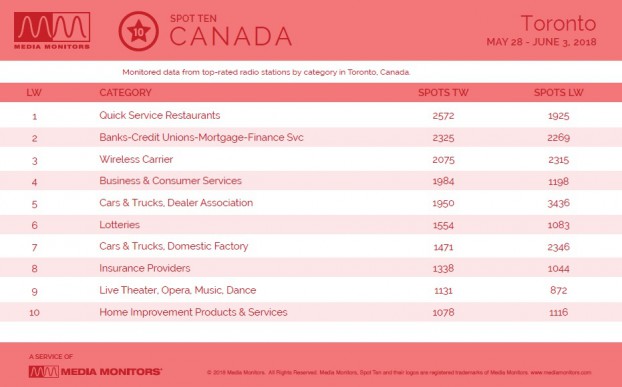 Montreal, by brand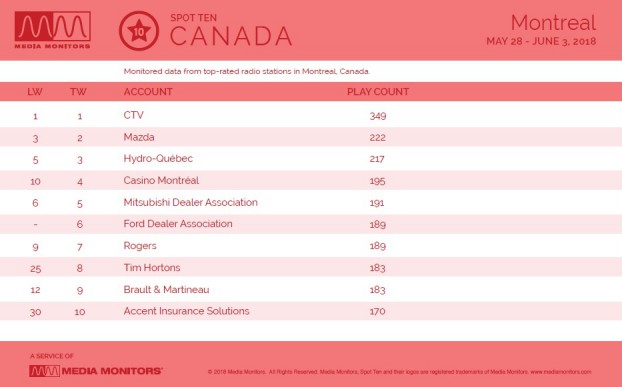 Montreal, by category