Spotted! Winnipeg street gets 7-Eleven treatment
The convenience store renamed a Manitoba street after its Slurpee and gave out free drinks in celebration of 7-Eleven Day.
Canadians received a treat when 7-Eleven threw its annual birthday celebration with national contests, giveaways and even the honorary renaming of a Manitoba street.
This 7-Eleven Day (July 11), Manitoba was named the Slurpee capital of the world – a title the province has held for 19 years running. To honour its commitment to the chilly beverage, a Winnipeg street was changed to "Slurpee Way," a name that will stick for the next two years. The city celebrated with a block party held on Wednesday, complete with large inflatable Slurpees. Meanwhile, a 7-Eleven location in Regina, Saskatchewan was given the title of the number one slurpee store in Canada.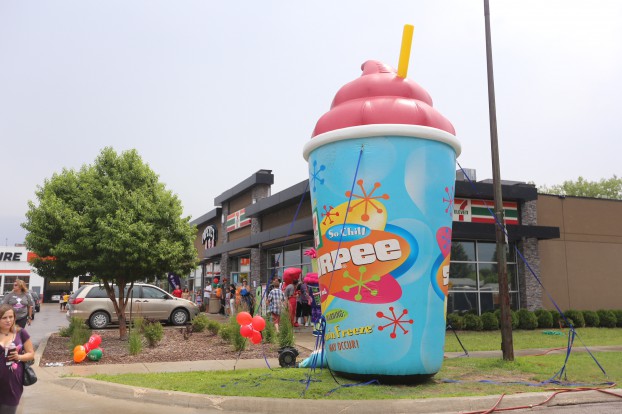 The company, which celebrated its 91st year, gave away 1,500 small Birthday Slurpee drinks across its 590 nationwide stores. Slurpees were served in a special edition cup featuring images of slurpee selfies and a bar code providing a bonus promotion for 7-Eleven's 7Rewards app users.
Rewards members who scanned their cup were given 711 points on the 7Rewards app, as well as the chance to win one million points, which can be redeemed for food and drinks in the store. The contest was open to slurpee drinkers in British Columbia, Alberta, Saskatchewan, Manitoba and Ontario, and was promoted on social.
7-Eleven first launched its loyalty program in 2015, rewarding customers who purchase six cold or hot drinks with a free seventh beverage. The stores are located internationally with approximately 11,800 stores in the U.S. and Canada.
As part of the campaign – executed by Booje Media, Genuine Media and digital agency Isobar – the convenience chain also rolled out new summer flavours, including Maynards Sour Patch Kids Watermelon, Dole Raspberry Lemon, and Crush Gummie Bear Slurpee.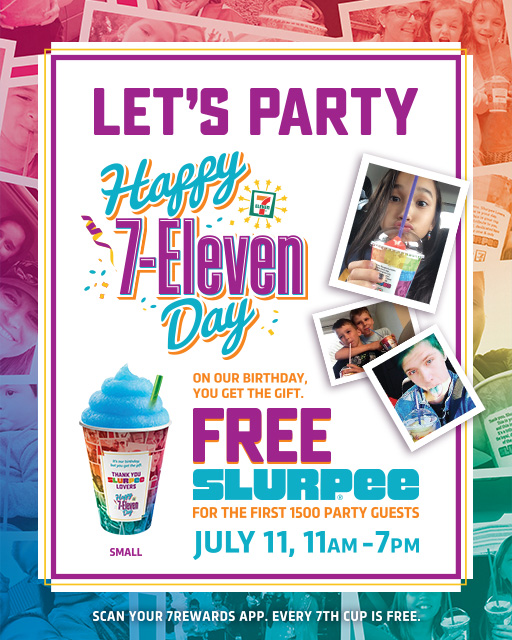 The brand is no stranger to promotions, recently rolling out contests for the Calgary Stampede and the release of the Jurassic Park film, Jurassic World.
Images courtesy of 7-Eleven