ET Canada goes after a new audience on YouTube
The brand's first YouTube series shifts its targeting to men.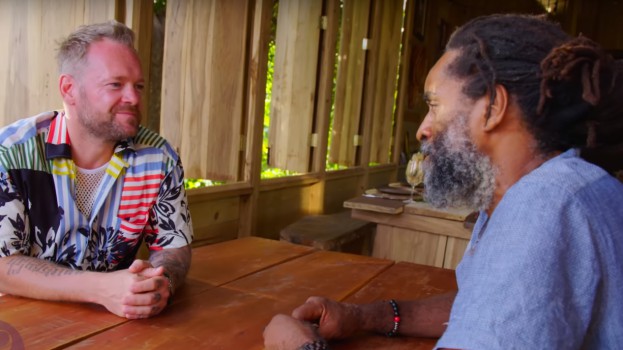 Pictured: Shayne Stephens, left, chats with Jamaican restaurateur Christopher Binns in episode two of Style Scout
One might expect that a new weekly YouTube series from primetime entertainment stalwart ET Canada would be filled with fashion, glamour and lifestyle tips targeting a primarily female audience.
They'd be half right.
Style Scout, a new travel and lifestyle series features host Shayne Stephens (fashion influencer and marketing director for Saks Fifth Avenue Canada) journeying to bucket-list destinations such as Chicago, Jamaica, Paris and more. The series will feature not only fashion, but also food, art, music, architecture and culture from the dream destinations. It's ET Canada's first YouTube series, and it's targeted mainly at men.
Jesse Barkley, brand integration supervising producer for the show, told MiC ET Canada saw major growth in its YouTube audience, which prompted the brand to look at creating a digital-only show. While the subscriber list is still modest for YouTube – just over 145,000 – Barkley said 100,000 of those subscribers have come in the last eight to 10 months.
Barkley said following this growth in audience, the team was prompted to look at the analytics. When the team dug into the analytics it was surprised to see the YouTube audience was "about a 50-50 male-female split," he said.
"When we discovered that there's a significant male audience there, we developed Style Scout as a natural answer to that audience's wants and needs," said Barkley.
The first episode dropped last week and has accumulated 7,000 views so far. The first three episodes are sponsored; episode one saw Chicago brewer Goose Island prominently featured in Stephens' travels to that city. The second episode, which will travel to Jamaica, is sponsored by the country's Appleton Estate, and the third episode (which will take place in Paris) is sponsored by the French liquer brand, Grand Marnier.
Deals were negotiated directly with the brands.
Barkley said he feels the show "lends itself well to sponsors" because of the wide breadth of subject matter it covers within the general "style" vertical. "The show can really encompass many elements of male style – cars, travel, hotspots – and deliver it to the digital-hungry male audience." He said it is currently working to incorporate more sponsors into the show for future episodes.
The show will be promoted through ET Canada's linear broadcasts. The number of episodes has not yet been determined.