Unscripted streamer Hayu says 'hey' to Canada
NBCU's new streaming service is entering a mature market, but is banking on Canadians' appetite for reality TV.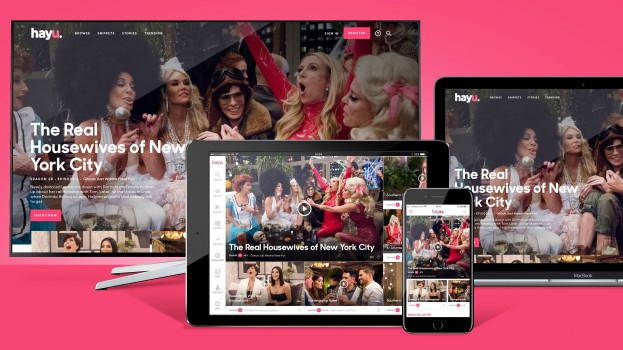 Hayu (pronounced "hey, you"), the all-reality SVOD platform owned by NBCUniversal, is officially live in Canada.
Subscribers to the service can now access more than 6,000 episodes of unscripted content including Keeping Up With The Kardashians, Top Chef and the Real Housewives franchise.
The company had announced its intentions to enter the Canadian market earlier this year at the BANFF World Media Festival, and quietly did a soft launch in mid-September in order to test the market.
Now, Hendrik McDermott, SVP of branded on-demand products at NBCU International says it's officially opened up for all Canadians to subscribe.
The service first went live in the U.K., Ireland and Australia in 2016 and has since expanded to Norway, Sweden, Finland and Denmark.
McDermott estimated that the platform adds 750 to 1,000 episodes of various shows per year. Its volumes of shows run deep. "We go back to season one, episode one of just about everything on our platform," he says. Unlike Netflix, which usually drops full seasons all at once following the completion of linear runs, McDermott says Hayu usually brings on new episodes "within hours" of U.S. broadcasts, in addition to carrying full show libraries. He says this makes it "compelling service for the reality TV category," which often lends itself more to "appointment-style viewing" than comedies and dramas.
McDermott would not say how many subscribers the platform has amassed so far. While the company's NBCU parent has given the platform access to franchises and titles from that family of properties, including E! and Bravo, McDermott says it's been acquiring further content outside of the NBCU library in its international markets. Titles it's acquired in the U.K. and Australia include Laguna Beach, The Hills and Dance Moms.
Canada marks the eighth market for Hayu. McDermott explains our market was key for expansion as Canadians "love reality TV" (series such as The Amazing Race Canada, America's Got Talent, The Voice and Big Brother often dominate the Numeris charts). He also adds that the market's infrastructure "allows streaming services to be very broadly and widely distributed." In other markets, Hayu has partnered with telcos and media companies, such as the U.K.'s Virgin Media and Australia's Telstra to offer the SVOD as a television app through cable packages.
The SVOD, which costs $5.99 per month, will not be ad-supported. "We've done a lot of research, and we've found that people don't want to have advertisements when they're already paying subscription fees," says McDermott.
While it won't compete for ad dollars in the Canadian market, it could be a competitor for eyeballs and attention. McDermott says the service is "designed to be complementary to your existing media plan," although during the BANFF announcement, NBCU chairman of global distribution and international Kevin MacLellan admitted that in territories where Hayu has launched, linear viewership of NBCU reality programming has dropped. He did stress that the declines were no more drastic than those in overall linear viewership.
While Canada's streaming market is not as saturated as the U.S. – it still doesn't carry Hulu, HBO Go, Sling TV or various smaller OTT players – niche player Hayu is undeniable entering a mature streaming market. Netflix set up shop here in 2011 and since then has attracted nearly half of Canada's English-speaking population (according to a recent study by eMarketer).
By year-end, eMarketer predicts that OTT in general will reach 17.4 million Canadians, with Netflix representing about 13 million of those subscribers. Penetration for competitors Amazon Video and CraveTV was estimated at 10% and 9%, respectively. Few analytics firms have tracked subscribers for brand-new players in the market such as CBS All Access and YouTube Premium.
But the North American SVOD market has proven to be too challenging for some players; the last several years has seen smaller operations such as Fullscreen's millennial-targeted subscription service and NBCU's former comedy offering Seeso shut down, while Sony has halted Canadian operations for its OTT, Crackle, in Canada.