ICYMI: Schitt's Creek signing off
Dan Levy says the decision to end the show came from its own creative staff.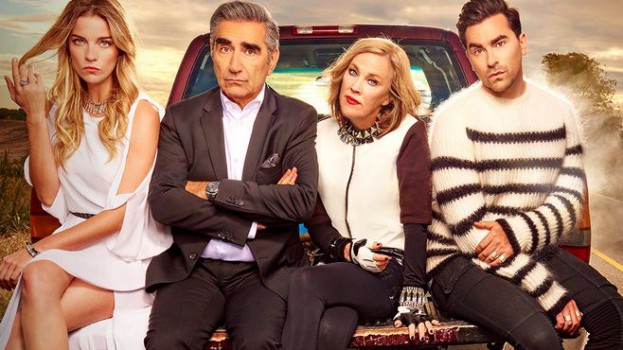 Dan Levy announces the end of Schitt's
One of the most celebrated made-in-Canada comedies in recent history will come to an end next year. In an announcement posted to social media yesterday, series co-creator, show-runner and star Dan Levy shared that Schitt's Creek would be returning for a sixth season in 2020, and that the season would be its last. Levy, who plays the on-screen son of his real-life father Eugene Levy, said in the Twitter post that it was the decision of the show's creative team to end its run: "We are so grateful to have been given the time and creative freedom to tell this story in its totality, concluding with a final chapter that we had envisioned from the very beginning." The CBC series has received critical acclaim in Canada from the beginning, but exploded in global popularity following its pickup on U.S. linear network Pop TV last year, as well as its distribution on Netflix. Production is set to begin on the new season next month.
Amazing Race Canada incorporates fan voting
Production is almost underway for CTV's original series The Amazing Race Canada, but first fans have to play their part. Three teams from past seasons have the chance to race again as Canada's Choice team for the upcoming seventh season. From now until April 1, fans have a chance to vote on CTV's website or on Twitter using team-specific hashtags to choose one of the three duos. In fitting with the "second chances" theme, the other competitors will come from backgrounds of having overcome challenges or faced reinventions or transformations. The premeire date for Race's seventh season has not yet been set.
Starbucks goes home in experiential play
In an effort to promote its new line of premium grocery store products, QSR Starbucks' latest experiential activation focuses on creating pop-up Starbucks locations – in people's homes. This weekend, Starbucks Canada will host a three-day "Bean 'N Brew" coffee tasting activation inside a private Toronto home in order to promote the at-home coffee experience. Guests are invited to register for one of 10 free public tastings, learn brewing tips and taste new products. PR firm Narrative is leading the experience.