The Raptors' final wins the week: Numeris
More than 5.1 million viewers tuned in for Game 6 to watch the Raptors take the NBA title.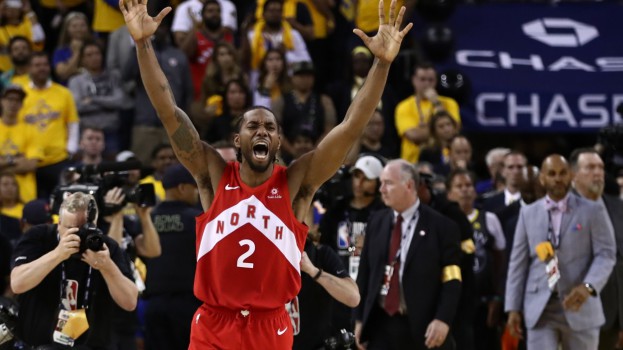 The results will shock few: as the Toronto Raptors hit the court for the game that would end in an NBA Championship, nearly the entire country was watching, according to Numeris results for the week ending June 16.
Nationally, Game 6 of the 2019 NBA Finals drew an average of 5.1 million viewers per minute, topping markets across the country; viewership increased steadily over the course of the Raptor's playoff appearances nearly doubling from an average of 3 million viewers the previous week. Different network broadcasts of both game six and game five filled out the top five in its entirety.
In Calgary, HGTV's successful first-season of Island of Bryan continued to draw viewers with an AMA of 76,000, an increase from weeks previous. And, amidst Raptor fever, audiences in Montreal and the West Coast market tuned in for America's Got Talent with 70,000 and 158,000 viewers respectively.
NHL hockey managed to penetrate the Quebec market, drawing an AMA of 854,000 viewers who watched the St. Louis Blues win the Stanley Cup during Game 6, taking the top spot. Viens-tu faire un tour? and Ciné-extra made an appearance on the Quebec charts, drawing in AMA's of 718,000 and 644,000, respectively.
Canada (Anglophone)
1. Raptors vs. Warriors on TSN Thursday at 9 p.m.: 5.1 million viewers
2. Raptors vs. Warriors on Sportsnet National Monday at 9 p.m.: 3.8 million viewers
3. Raptors vs. Warriors on CTV Thursday at 9 p.m.: 2.3 million viewers
4. Raptors vs. Warriors on Sportsnet Ontario Monday at 9 p.m.: 2.2 million viewers
5. Raptors vs. Warriors on Citytv Monday at 9 p.m.: 1.8 million viewers
Quebec (Francophone)
1. Bruins vs. Blues on TVA Sports Wednesday at 8 p.m.: 854,000 viewers
2. Les poules aux oeufs d'or on TVA Wednesday at 7 p.m.: 766,000 viewers
3. Viens-tu faire un tour? on SRC Sunday at 8 p.m.: 718,000 viewers
4. Les beaux malaises on TVA Tuesday at 8 p.m.: 669,000 viewers
5. Ciné-extra on TVA Saturday at 6:30 p.m.: 644,000 viewers
Montreal (Anglophone)
1. Raptors vs. Warriors on Citytv Thursday at 9 p.m.: 107,000 viewers
2. Raptors vs. Warriors on TSN Thursday at 9 p.m.: 97,000 viewers
3. America's Got Talent on Citytv Tuesday at 8 p.m.: 70,000 viewers
4. Raptors vs. Warriors on Citytv Monday at 9 p.m.: 63,000 viewers
5. Bruins vs. Blues on CBC Wednesday at 8:08 p.m.: 60,000 viewers

Toronto/Hamilton
1. Raptors vs. Warriors on TSN Thursday at 9 p.m.: 2.3 million viewers
2. Raptors vs. Warriors on Sportsnet Ontario Monday at 9 p.m.: 1.4 million viewers
3. Raptors vs. Warriors on CTV Ontario Thursday at 9 p.m.: 871,000 viewers
4. Raptors vs. Warriors on Citytv Ontario Monday at 9 p.m.: 635,000 viewers
5. NBA Finals pre-game show on Sportsnet Ontario Monday at 8:30 p.m.: 567,000 viewers

Edmonton
1. Raptors vs. Warriors on TSN Thursday at 9 p.m.: 238,000 viewers
2. Raptors vs. Warriors on Sportsnet West Monday at 7 p.m.: 194,000 viewers
3. Raptors vs. Warriors on CTV Edmonton Thursday at 7 p.m.: 104,000 viewers
4. Raptors vs. Warriors on Citytv Edmonton Monday at 7 p.m.: 89,000 viewers
5. Bruins vs. Blues on CBC Edmonton Wednesday at 6:08 p.m.: 84,000 viewers
Calgary
1. Raptors vs. Warriors on TSN Thursday at 9 p.m.: 211,000 viewers
2. Raptors vs. Warriors on Sportsnet West Monday at 7 p.m.: 132,000 viewers
3. Raptors vs. Warriors on CTV Calgary Thursday at 7 p.m.: 128,000 viewers
4. Raptors vs. Warriors on Citytv Calgary Monday at 7 p.m.: 78,000 viewers
5. Island of Bryan on HGTV Sunday at 10 p.m.: 76,000 viewers
Vancouver/Victoria
1. Raptors vs. Warriors on TSN Thursday at 9 p.m.: 437,000 viewers
2. Raptors vs. Warriors on CTV Vancouver Thursday at 6 p.m.: 333,000 viewers
3. Raptors vs. Warriors on Citytv Vancouver Monday at 6 p.m.: 286,000 viewers
4. Raptors vs. Warriors on Sportsnet Pac Monday at 6 p.m.: 235,000 viewers
5. America's Got Talent  on Citytv Vancouver Tuesday at 8 p.m.: 158,000 viewers