Articles Tagged 'Marblemedia'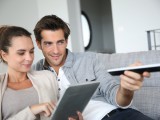 Digital
Mobile
Television
A check-in with players from the measurement, broadcast and media sides on whether the country is any closer to a true cross-platform measurement solution.

Digital
Experiential
Interactive
Marblemedia's Mark Bishop explains how RFID bracelets and digital screens will allow brands and advertisers to activate at its proposed $60M Toronto theme park.

Television
A breakdown of what's gaining momentum on specialty networks, and the shows expected to be hits right out of the gate, according to TV execs.