CBC tracks the social hockey-verse
The broadcaster partners with Microsoft and Getglue.com to interact with hockey fans and track their responses during the playoffs.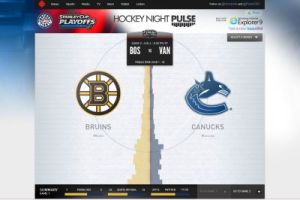 CBC is proving just how rowdy fans can be during the hockey season playoffs  – one tweet at a time.
With the help of Microsoft, the broadcaster has developed an HTML5 web page, Hockey Night Pulse, which delves into hockey game mania with a digital representation of fans cheering frantically for a winning goal or an unwanted penalty.
Tweets coming in from hockey fans as they respond to intense game moments make up the spikes in the graph, indicating points in the game where fans were most active on Twitter. So far, hockey has harvested more than 1.2 million tweets during the playoffs.
"It's almost like being at the game. If you look at it, it's almost like a wave form – it goes up and down as people are cheering," said Dan Tavares, executive producer, CBCSports.ca. "The idea is to connect communities and enhance and amplify the hockey night experience. We are trying to create a unique, co-viewing experience."
Partnering with Microsoft and using HTML5 to develop the site was a move for CBC to be more innovative and provide a better experience for their users, adds Tavares.
In addition to Hockey Night Pulse, the Canadian broadcaster has also found a sticky spot on the GetGlue social networking site, where users chat about and share their entertainment viewing as well as receive social rewards in the form of virtual stickers.
The site encourages users to 'like' and 'check-in' to what they are watching, reading or listening to. So far, over 72,000 hockey fans have checked-in on the CBC Hockey Night Canada GetGlue page and it has garnered almost 4,000 likes.
Promotional efforts have been focused on CBC.ca as well as the broadcaster's Facebook page, directing users to Hockey Night Pulse and GetGlue.